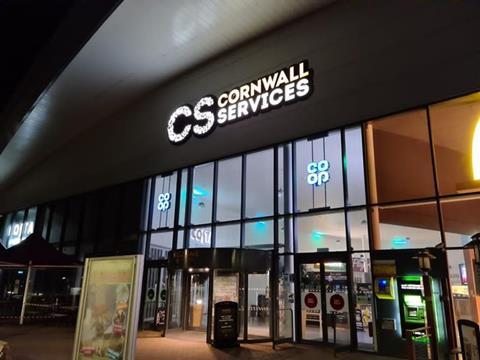 Co-op has launched its first franchise store at a service station, with the opening of Co-op Cornwall Services.
Its franchise stores now total 15 and include independent retailers, university campuses, Nisa partners, its first franchise partnership with a catering business, Gather & Gather and Costcutter company-owned stores.
The new 2,000sq ft store located off the Victoria Interchange junction off the A30 will be open between 7am-10pm seven days a week serving tourists, commuters and business travellers. The store will support 20 local jobs and will run on 100% renewable electricity.
The store has been specifically designed to serve the many commuters and tourists who pass through the area. It includes an extensive food-to-go range with hot and cold sandwiches, snacks and chilled drinks, an instore bakery and freshly brewed Co-op Ever Ground Fairtrade coffee.
Martin Rogers, head of new channels at Co-op, said: "We're always looking for ways to reach new customers and members, and our Cornwall Services store is a great example of how our franchise model can flex to work in a number of different locations to meet differing customer missions.
"The Cornwall Services' Co-op is a fantastic looking store in a cutting-edge service station in the heart of the county and will add a real point of difference for commuters, giving them access to award-winning and quality food on the go.
"Our franchise offering has gone from strength to strength as we focus on generating mutual value with forward thinking like-minded partners and our expertise and learnings in this area are helping us access new markets all over the country."
Store owner Mark Upton said: "We're really excited to launch the first Co-op in a service station site at Cornwall Services. The store has a fantastic modern look a substantial range and competitive prices that provides a convenient solution for tourists and for local people to stop off and top-up on their commute."
This follows the recent accreditation for the Co-op by the British Franchise Association (bfa) having been upgraded to an Associated Member of the regulatory body, reinforcing the retailer as a credible franchise partner.
The bfa, a voluntary self-regulatory body for the UK franchise industry is responsible for setting high quality standards of franchising across the UK.