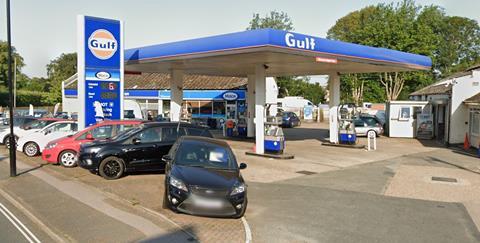 Competition from three local supermarkets has pushed a petrol station on the Isle of Wight into closure after decades of serving its community.
Fairlee service station in Newport, Isle of Wight has sold petrol for over 60 years, but owner Simon Flack has decided it is time for his family business to move on.
The Gulf-branded forecourt on Fairlee Road will be closing in March along with the shop. Simon said it was a hard decision, but it would enable his growing business of car sales and repairs, operating out of the same site, to flourish.
He told Forecourt Trader: "We need the space for car sales which is really busy. Sales have doubled in that area, so we're turning the shop into the office for car sales which should be done toward the end of March.
"We've got about 25 staff here on sales and repairs so that side of things is doing really well. The eight forecourt and shop staff will unfortunately be let go, which is very sad, they're like family, I've been working with them for 20 or 30 years.
"But we've got three supermarkets within a quarter of a mile of us, the Asda just came in three years ago, so it's tough competition and we're not selling as much fuel as we used to. Asda are selling petrol at almost the rate I'm buying it, so it's just come to an end – the pumps are old, the shop is old, the EPOS is old, and I'm getting old.
"The shop does work but with the drop in fuel then we've also had a drop in footfall, and I'd have to invest a lot of money for it to be a full convenience store."
The forecourt was originally Esso with Simon's father owning and running the business before Simon took over 30 years ago. It moved to Texaco for three years but has been with Gulf for the last 10 years with a Mace shop.
Writing on the station's website, Simon said: "Having lived in Fairlee Road for 60 years, it is understandable that we feel part of the community, but unfortunately the time for us to sell fuel has passed.
"We are pleased to announce that the car sales will be expanding, and the workshop will continue to operate as usual.
"I would like to take this opportunity to thank you for choosing us and putting your trust in our services. Our slogan of 'So much more than just petrol' has served us well. Although you will no longer see this in our advertising, in essence, this remains true – just think of us now as Fairlee 'so much more, just not petrol!'"
As the station transitions, Simon said he will keep customers updated through other channels.