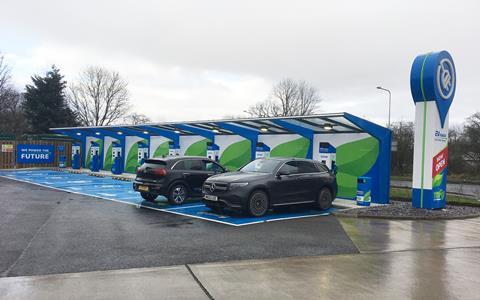 The call for swift action and binding public charger targets by the Society of Motor Manufacturers and Traders (SMMT), following the continued acceleration of electrified vehicle registrations this year, has been welcomed.
With the release of the latest new car registration figures (see story) SMMT chief executive Mike Hawes said that the pace of public charging infrastructure was struggling to keep up.
Oliver Shaw, CEO at fuel and convenience retail analytics platform Kalibrate agreed, and stressed that it presented a massive opportunity for retailers.
"With traditional manufacturers investing in and producing electric vehicles (EVs), alongside the government's ongoing commitment to reach net-zero emissions by 2050, it should come as no surprise to see EV market share skyrocket," he said.
"Yet, if EVs are to become commonplace, the infrastructure needs to keep pace with consumer appetite. Charging points need to be rolled out, and this must be done through a steadfast data strategy that can uncover regional variations and show which locations need further investment. Only then will we see a tipping point to ease concerns of range anxiety (27%) and the complexity of refuelling compared to traditional vehicles (27%).
"This presents a massive opportunity for retailers, with 57% of EV drivers saying they'd like to see more charging points at shopping venues. We have seen the likes of Costa Coffee and Waitrose invest in EV charging points and form strategic partnerships with one eye on the EV future. Only time will tell if this electric world becomes a reality and if the infrastructure will be in place for EVs to become mainstream."
Jon Lawes, managing director at Hitachi Capital Vehicle Solutions, said: "The rise in popularity of electric vehicles continues to be welcome news for the industry as drivers are increasingly convinced by the compelling benefits of EVs.
"However, with a deteriorating ratio of public charge points to cars, there are concerns momentum towards zero emission motoring will be hampered in 2022 by insufficient public charging provision which is failing to keep pace with new EV registrations.
"Despite recent welcome Government pledges to invest in charging infrastructure, the current shortfall and significant geographical disparities threaten to dampen driver confidence."
Neil Isaacson, CEO of on-street charge-point operator, Liberty Charge, agreed: "The SMMT's call is welcomed and highlights the very real need to accelerate the roll-out of on-street charging. But if we are to turn hopes into reality, then as an industry we need to work together to install and maintain reliable equipment that is easy and convenient to use, support Local Authorities with clear guidance to help de-mystify the logistics of planning and regulation, and use data and insight to inform on location priorities.
"Of course, there needs to be renewed urgency in tackling the chronic shortage, but the solutions installed must inspire consumer confidence and be made available in such a way that makes transport sustainable and accessible to everyone."