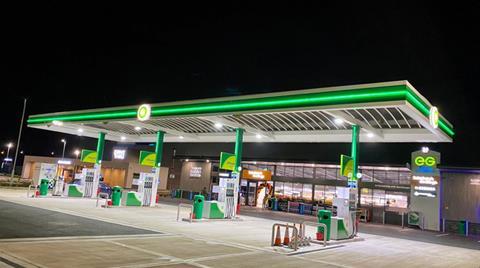 EG Group has opened a new-to-industry site at Rushden in Northamptonshire.
In May it was announced that EG Group has agreed a lease on the site with the developer Godwin Developments.
Ilyas Malji, country manager – UK for EG Group, said: "EG Group are delighted to have invested circa £2.7m in the new-to-industry, Rushden Services. The site consists of a petrol filling station, Sainsbury's on the go, a drive-thru Starbucks and a Gregg's bakery bringing convenience and choice to customers. At Rushden services, customers will be able to refuel their cars, enjoy food-on-the-go and coffee from our partner brands, as well as shop for daily essentials.
"Our site selection process determines locations which are on the main road network and recognise significant vehicle trips. While the western side of Rushden is well served by roadside services along the A45, there is a distinct lack of roadside services on the eastern side of Rushden, particularly along the A6 corridor. Our services will meet this demand and enhance the offer available to motorists travelling in and around the area. The development will also provide up to 40 full/part-time jobs in the local area."
Last year EG Group completed 13 new-to-industry developments in the UK taking its total of UK sites to 396.