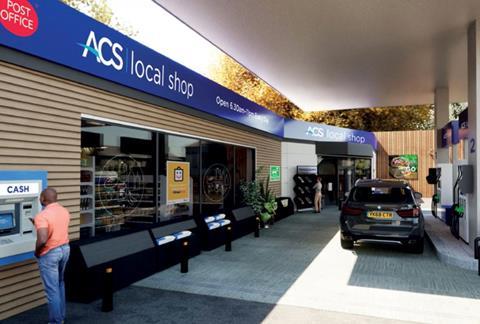 The 2023 Forecourt Report, published today by the Association of Convenience Stores (ACS), reveals the continued investment that forecourt retailers are making in improving the breadth and depth of services that they offer to customers.
It found that 39% of forecourts offer free-to-use ATMs, 31% offer click and collect services while standalone parcel collection points are available in 26% of stores.
The report also shows the commitment that forecourt retailers are making to improve the technology in their stores, with almost a third of those who are investing doing so in their till systems/epos platforms (31%), and 30% of those investing doing so through improving, expanding and replacing refrigeration units in store.
ACS chief executive James Lowman said: "The best forecourt retailers often outperform their convenience counterparts on the impressive range of services and technology that they incorporate into their offer for customers. This has however been a challenging year for forecourts, with business rates costs and energy bills having an impact on overall investment. We urge the government to recognise the essential role that forecourts play in keeping their communities going."
Key findings from this year's Forecourt Report include:
• The UK forecourt sector creates over 89,000 jobs, with one in four colleagues (25%) being in the business for more than 10 years
• The value of sales in the forecourt sector has reached £4.9bn in the last year (excluding fuel)
• 78% of forecourt retailers are active in their communities, raising money for local charities, getting involved with local projects and donating to food banks
• 21% of independent forecourt retailers take no days off throughout the year
• Over the last year, independent forecourts have invested an average of around £11,700 in improving their stores
One area of significant change highlighted by this year's Report is the UK's move toward EVs.
Lowman continued: "Forecourt retailers will undoubtedly have a role to play in an EV future, but we are not seeing a rush for all stores to put in charging points, as for many the value that parking space currently provides for a customer who is coming in to shop outstrips the potential value of a charging point on the site. Around 8% of the forecourt sector now offers EV charging, and we expect steady growth in the future as forecourts establish themselves as one of several charging options for consumers."
Commenting on the report, Peter Batt, managing director of Nisa, said: "Today's ACS report shines a light on the growing importance of forecourts in the convenience retail universe. As the traditional fuel-and-go offering dwindles, forecourt retail is evolving to suit a more dynamic shopper mission with bigger basket sizes, a more comprehensive food to go offering and better choice of quality food and beverage offerings, of which at Nisa, Co-op own label plays an important part.
"Last year Nisa found that forecourt sales rose by 29% over a three-year period highlighting, among other things, that forecourts are increasingly seen as a convenience retail destination in themselves and those that tailor their offering to suit the evolving customer experience will come out on top.
"Like their convenience store counterparts, forecourts play an active role in their local communities, and the ACS's findings that many forecourt retailers raise money for local charities mirrors what we've seen at Nisa, with over £67,000 raised for local air ambulance services, community groups and primary schools. Nisa has many fantastic forecourt retailers and I'm proud their innovation and entrepreneurial spirit is being celebrated in today's report."
The full Forecourt Report is available to download on the ACS's member portal.