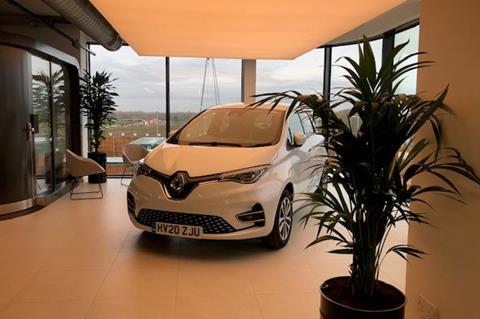 Gridserve has announced the "UK's first net zero electric vehicle leasing business", in conjunction with the opening ot its first Electric Forecourt.
Gridserve Electric Vehicle Solutions, launched in partnership with Hitachi Capital (UK) plc, is designed to bring the cost of driving electric well below that of petrol or diesel cars, and minimise the environmental impact of EVs.
Net zero carbon energy is included in monthly leasing payments, meaning drivers can charge at Electric Forecourts without paying any additional costs. The thinking is that this removes a key barrier to mass EV adoption, enabling people to accurately compare the cost of leasing a petrol or diesel vehicle, plus fuel, with an electric vehicle with fuel included.
Gridserve believes this reflects the true overall cost to the consumer, which in most cases clearly demonstrates a lower cost for EVs than petrol or diesel vehicles.
The company says the benefit is amplified for the 40% of UK drivers without access to off-street parking who would otherwise have to rely on less dependable and typically more expensive public charging infrastructure compared to charging at home. For those who lease through Gridserve, the claim is that charging at an Electric Forecourt becomes cheaper than home charging because energy is already included in monthly leasing payments.
To reduce the environmental impact of EVs even further, Gridserve has partnered with a tree planting organisation, which will plant 100 trees for every EV leased through the service, helping to minimise the carbon emissions from supply chain processes, such as manufacturing.
Gridserve founder and CEO Toddington Harper said: "Together with our Solar Farms and Electric Forecourts, Gridserve Electric Vehicle Solutions completes our 'sun-to-wheel' infrastructure designed to deliver net zero carbon transport from 2020 onwards. By including the planting of 100 trees for every electric vehicle leased through the service and providing net zero carbon energy to charge all the vehicles, we're making EV driving greener, cheaper and more straightforward than ever before."
Robert Gordon, CEO of Hitachi Capital (UK) PLC, said: "Our partnership with Gridserve is a total game-changer for electric mobility. Not only are we providing electric vehicles at some of the most competitive rates on the market, but we are at the same time developing a network of rapid, reliable and renewably powered Electric Forecourts that will fast-track the electric vehicle revolution in the UK as we prepare for a zero-carbon future."
Gridserve and Hitachi Capital (UK) plc plan to offer electric vehicles from all major vehicle manufacturers. At the time of launch, available brands include Audi, BMW, DS, Mercedes-benz, MG, Mini, Nissan, Renault, and Volkswagen.