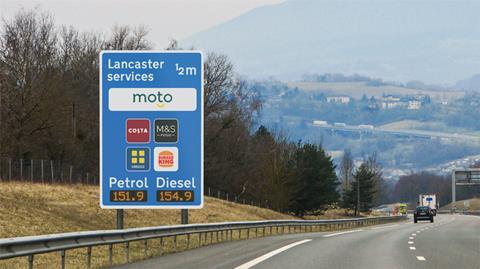 Moto is preparing to cut fuel prices at five of its motorway services areas (MSAs) by 15ppl after being given permission to display new digital fuel price signage on motorways, and is calling on other MSA operators to follow its lead.
It said its ambition is to roll-out the price cuts to all 47 of its forecourts.
Approval for the new motorway signs was given by National Highways after a trial at Moto's Frankley site during 2021. It showed that a greater number of motorists turned into Frankley services, which meant fuel prices could be dropped.
Moto is planning to install signage at five of its services over the coming months, and says the prices cuts will bring them in-line with prices at local high street forecourts, and within 10ppl of average supermarket prices.
Moto chief executive Ken McMeikan is urging other motorway forecourt operators to follow suit. He said: "Today marks a hugely important next step in improving fuel price transparency on the motorways and in helping motorists' money go further. We want to move quickly to install the signage and reduce prices at our sites as fast as we can.
"We have worked tirelessly to show National Highways that the new signage is a very sensible measure that will allow us to reduce prices for motorists. If other motorway operators also look to install the new fuel signage and lower prices at their sites, motorists will see fuel prices comparable to local high street forecourts up and down the UK's motorways."
He added: "At Moto, it's been our ambition to find a way of lowering motorway fuel prices sustainably and to make a significant difference to what motorists pay on motorways. With the new digital fuel price signage, we will be well on the road to doing just that."
RAC fuel spokesperson Simon Williams said: "Moto's bold decision to lower the cost of filling up at its service areas should permanently transform motorway fuel retailing for the benefit of everyone on the road.
"For years drivers have been confused as to why motorway fuel is so expensive and, as a result, many have actively avoided buying fuel at services, or only topped up with the bare minimum to get them to their destinations. Now drivers will be able to fill up on the motorway safe in the knowledge that they'll be paying a fair price.
"We strongly urge all the other motorway service operators to follow Moto's lead and give the UK's drivers a better deal at their pumps."
The trial of the Moto signage was monitored and evaluated by National Highways over a period of 12 months. The process for gaining National Network Authorisation included analysis of the impact on safety – ensuring the signs did not pose a distraction risk to drivers – as well as providing a useful and effective information service. Additionally, the sign has been designed in line with the national Traffic Signs Regulations and General Directions guidance, meaning that it is easily legible to drivers approaching them at the legal speed limit.
Julie Prince, senior policy advisor at National Highways, said: "We appreciate drivers want more information to help them plan their journeys safely and we welcome any innovation that benefits motorists and offers a better journey experience for people using our motorways.
"We see this move as a positive step forward, enabling operators of motorway service areas to continue to contribute to road safety, customer choice and the efficient flow of traffic on our motorway network."