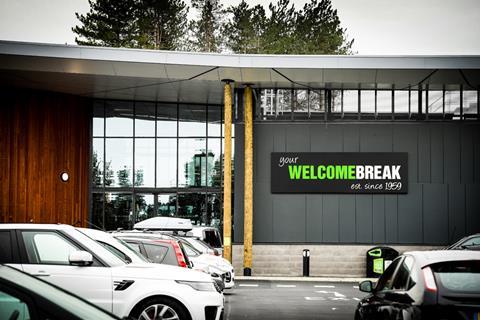 A developer working with Welcome Break has applied for planning permission for a new-build roadside services at the A46 / A606 Melton Road Roundabout at Hickling in Nottinghamshire.
The Venari Land is seeking consent for a development comprising a refuelling forecourt, an ancillary facilities and services building with drive-thru lane, drive-thru coffee shop building, associated car parking including electric vehicle (EV) charging points and heavy goods vehicle (HGV) fuelling and parking zone. It states the site will be operated by Welcome Break.
A design statement prepared by Venari Land says the site comprises 6.2 acres of land bordered by the A46 to the West, the A606 to the East and a major roundabout to the North, making the site ideally positioned to meet the needs of the passing motorist.
It explains the design for the site is delineated into sections with the PFS forecourt and main building and coffee drive-thru and associated parking located to the north of the site, deliberately segregated from the HGV area and within close proximity of the buildings.
The HGV refuelling and parking zone is located to the southern portion of the site to minimise conflict between HGV and general vehicle and pedestrian movements, while still providing safe pedestrian access for HGV drivers to use the wider facilities.
It claims that the siting of the two buildings at the front of the site serves to screen views into the HGV zone located at the rear of the site and provides the best aesthetic outcome for the scheme and surrounding area, minimising the visual impact of the HGV zone from the A46 and A606 vistas.
The plans make provision for parking for 57 cars, 15 HGVs and two coaches. A total of 20 EV charging points are proposed which, it states, meets a significant gap in supply on the strategic road network and local area. The 2,500 kVA power capacity available for the development also provides scope for future expansion of the EV charging provision.
It adds: "This site therefore a critical part of the strategic road networks infrastructure both in the short and long term. In addition as part of the EV Charging Strategy battery packs will be introduced to site as charging provision increases to lessen the impact on the electrical network."
For conventional fuel a consolidated tank farm is proposed located centrally between the main forecourt fuelling pumps and the HGV fuelling area to minimise excavation and allow for future maintenance provision without impacting trade or customer vehicular and pedestrian movements around the site.
In its summery the statement claims the proposal meets a need for services on the strategic road network (SRN) and provides much need HGV facilities and EV charging provision. It adds that the scheme will provide passing motorists with essential services and will improve safety for road users through the provision of high-quality rest and recuperation facilities.