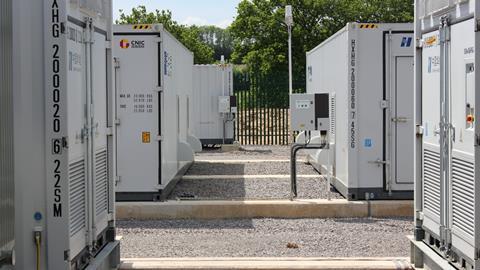 Shell has started trading power from Europe's largest battery storage project, the 100-megawatt system in Minety in Wiltshire, South West England.
Controlled and optimised by Shell-owned Limejump the battery, which is now fully operational, will help balance the UK's electricity demand, providing electricity for up to 10,000 homes for a day before being recharged.
Shell Energy Europe signed a multi-year offtake agreement in early 2020 to trade all of the power from the battery, as part of Shell's wider work to help accelerate the transition to cleaner energy sources.
"Flexible storage and supply systems such as Minety have an essential role in balancing supply and demand – especially as renewable power sources become increasingly central to the UK's energy needs," said David Wells, VP Shell Energy Europe. "We fully support the UK's target of achieving a net-zero emissions society by 2050. Projects like this will enable that transition."
The Minety scheme is now the largest battery within National Grid ESO's Dynamic Containment market, which was set up last year to deal with sudden frequency issues with grid balancing.
Limejump is an energy-tech platform that connects and delivers renewable and stored energy to the UK's electricity system and wholesale markets. As more renewable energy connects to the electricity system, supply becomes less predictable and batteries are needed to help National Grid balance supply and demand. Limejump manages more than 400 megawatts of responsive assets, including Minety's 100-megawatt battery, that can be rapidly dispatched to support the grid when needed.
Catherine Newman, CEO of Limejump, said: "Delivering the Minety project during Covid has been an amazing team effort, and with our colleagues at Shell, we can now focus on optimising Minety's performance and supporting National Grid ESO."
Shell aims to make power a significant business that could sit alongside its oil, gas and chemicals businesses. It is building an integrated power business that includes generating renewable electricity, buying and selling it, storing it and supplying it directly to customers.