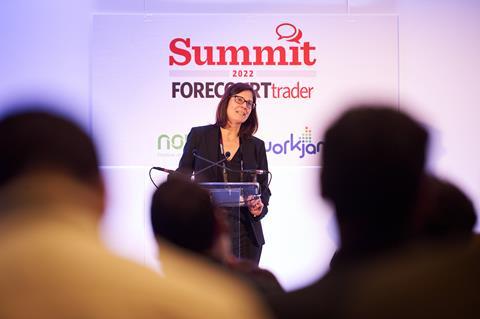 The forecourt sector is embarking on one of the biggest changes our industry has ever seen, and we musn't lose the trust of the customer, according to Hanna Hofer, vice president convenience and mobility at BP UK.
Presenting at the Forecourt Trader Summit 2022 Hofer said the company's strategy for change was an integrated one: "BP will be an integrated energy player and this integration helps us to manage the uncertainty during the transition."
The strategy includes resilient hydrocarbons where oil and gas production done well can still play an important role over the next decade, as the demand for it will be there and it needs to be satisfied. Then there is convenience and mobility, which offer a huge growth opportunity.
"We want to double our customer touch points by 2030, and we will do this through investment in strategic convenience offers and the acceleration of our EV rollout," said Hofer.
Finally there is the generation of low-carbon energy with renewables such as offshore wind and solar, as well as hydrogen.
Despite all the changes, Hofer said it was vital not to lose the trust of today's customers.
"There is a lot of uncertainty but there are also opportunities. We are determined to support our customers and work with our partners to support their customers."
Hofer said the changes on the forecourt will go beyond putting an EV charger in and beyond the fuel offer: "We want to play a bigger role in local communities. We want to focus on convenience; making life easier for customers and we want to reimagine what the customer experience could be beyond fuel and beyond the shop."
She said it was important to help established players in the market to embrace these changes and she added that these established players already have advantages.
"Most of the drivers today who are considering buying an EV car are currently our fuels customers. This is particularly true of our fleet customers. We have a role to play in helping them through the transition, to reassure and support them. Let's make sure we don't lose their trust and that relationship today, because once it is gone it will be hard to get back."