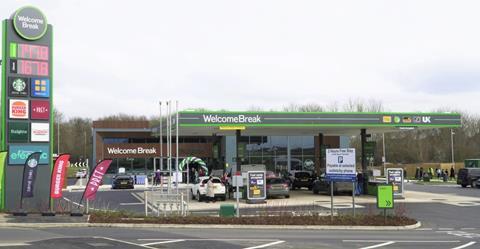 Plans have been submitted for a new Welcome Break motorway service area (MSA) at Junction 1 of the M69 near Burbage in Leicestershire, which would be the first service area on the motorway.
Currently, the nearest MSA facilities to the site are 12 miles away at Leicester Forrest East on the M1 and 14 miles away at Corley on the M6.
Hybrid planning permission was approved for the site in August 2022, allowing for a mixed-use development including a petrol filling station, drive-through restaurant and car/cycle parking. The suitability of the site for a roadside facility is therefore already established. Welcome Break purchased the site following the granting of last year's planning permission and the company is keen to develop it as soon as possible.
The new proposals are for a petrol filling station for domestic vehicles and an HGV filling station. The main motorway services building of 1,790.8sq m will include a Starbucks, KFC, Burger King and Pret as well as a convenience store, a Gaming Zone, toilet facilities and seating area.
Also on the site will be a drive-thru coffee unit, 269 parking spaces, 36 EV charging spaces as well as landscaping with picnic and dog walking areas.
The application says the car parking, HGV parking (29 dedicated spaces) and EV charging are essential elements of the proposed development. The EV charging will have 150- 350kW chargers stations which are described as both state of the art and future proofed.
Due to the site crossing council boundaries, applications have been lodged with Hinckley and Bosworth Borough Council and Rugby Borough Council.