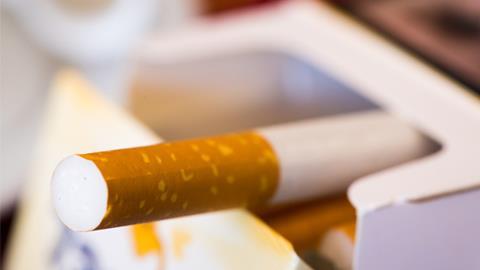 Trade associations for the retail and wholesale sectors are calling for urgent action from the Government to ensure the supply of tobacco products.
The Association of Convenience Stores (ACS) and the Federation of Wholesale Distributors (FWD) have written a joint letter to financial secretary to the Treasury Jesse Norman MP, calling on the Government to provide urgent clarity on the status of tobacco forestalling restrictions.
Ordinarily, the tobacco forestalling regulations are in place to ensure that retailers do not stockpile products before a Budget to take advantage of lower duty rates. As there is no formal Budget statement planned this year and no planned duty increase, there is confusion over the status of the regulations.
In the letter, ACS and FWD have urged the Government to lift the pre-Budget allocation rules on stock to ensure that businesses can obtain enough supplies to meet demand from customers, and has raised concerns that stock shortages would lead to an increase in the illicit market.
FWD chief executive James Bielby said: "The current restrictions on stockholding do not adequately take account of the continuing impact of Covid-19 on the UK tobacco market. Since March tobacco sales in the wholesale channel have increased, while fewer people travelling abroad means there is less duty free and cheaper tobacco in the market. There has been a decline in illicit tobacco trade, with the full implementation of track and trace in May seeing some non-registered retailers exit the market.
"The introduction of a new UK Track and Trace system and ID from January 1 2021 may mean wholesalers will be looking to stock up on tobacco ahead of the end of the transition period, as product already in circulation can continue to be sold after that date, thereby avoiding a potentially costly scanning system change for as long as possible. Continued restrictions on the amount of product that can be purchased, combined with increased sales as the UK heads into new lockdowns, are extremely unhelpful and unnecessary and HMRC needs to remove them in light of these unique circumstances."
ACS chief executive James Lowman said: "Retailers need urgent clarity from the Government around the status of the forestalling restrictions, and pre-Budget allocation rules should be lifted. Sales patterns during the Covid-19 pandemic have been unpredictable and extraordinary. Continued disruption from Covid-19, combined with the end of the EU Exit transition period at the end of this year, means that setting allocations would effectively be a guess, and that would lead to a risk that retailers will face shortages. We must do everything we can to ensure that customers are not forced to seek out tobacco products on the illicit market."