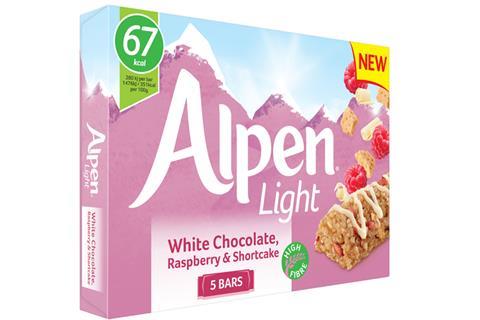 Weetabix Food Company is adding a new variant to its Alpen Light bars range.
White Chocolate, Raspberry & Shortcake is targeted at consumers who are looking for healthier snacks.
The new bar is priced at £1.99 MRSP for a pack of five and is available now at a promotional price of £1.
Nanda Desai, brand manager for Alpen, said: "We make sure we keep the Alpen Light range current and continue to deliver on the lead flavour trends in a low-calorie format. Our last two pieces of NPD, Salted Caramel and Jaffa Cake, are now our best-selling SKUs. Our aim is to bring new tastes and excitement to the range, ensuring the offering is relevant to consumers and retailers' needs.
"Choice and variety are the key drivers of growth in this category. To keep driving performance forward, it is important that retailers rotate flavours and create diversity in their range. Alpen Light White Chocolate, Raspberry & Shortcake gives them that option."
The new launch is being supported by a dedicated social media campaign.
It will be available in cases of 10 packs of 5 x 95g bars.