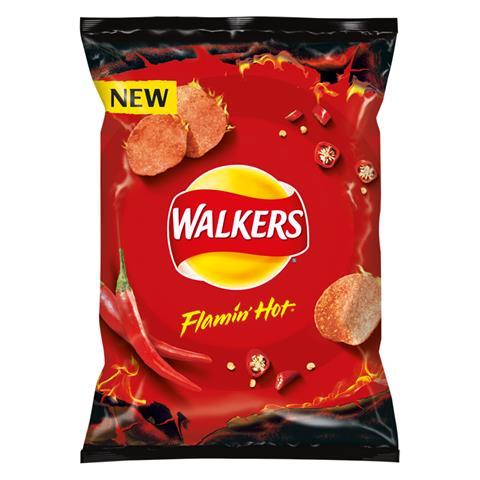 Walkers is introducing a new Flamin' Hot flavour across its core potato crisps range, rolling out from Monday 18 January.
"Walkers Flamin' Hot features a distinctive, no artificial colours, red crisp and a warming spicy kick – just enough though!" Fernando Kahane, Walkers marketing director at PepsiCo, explained. "Our ambition is for the new flavour – matched with the eye-catching red crisps – to appeal to the masses and grab the attention of younger shoppers."
"We know our Flamin' Hot recipe is one of the nation's favourite, so this latest launch presents a real category growth opportunity."
The launch follows the UK roll-out of Wotsits Flamin' Hot, which has contributed to the overall Wotsits brand growing 54% YTD. In addition, Doritos Flamin' Hot Tangy Cheese contributed 43% of total brand growth.
Walkers Flamin' Hot will be available in 6 Packs (RRP: £1.65), Singles (RRP: £0.69), 45g Grab Bags (RRP: £0.85) and a 65g PMP (RRP: £1.00).