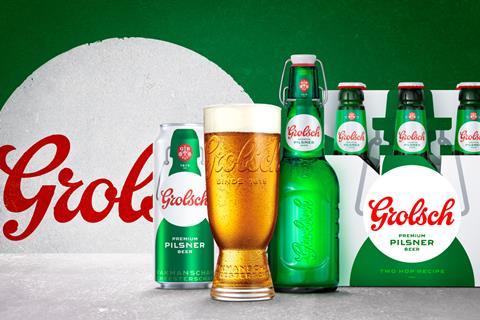 Grolsch Premium Pilsner is set to return the UK market this autumn, now brewed back at its historic home in Enschede, The Netherlands, and with a new look.
In-store and online from the end of October it will be available in 330ml crown cap bottles, 440ml (from March 2021) and 500ml cans and the 450ml swing-top bottle – with a range of multipack formats.
Grolsch, which is now part of Asahi UK's portfolio of premium and super premium beers and ciders, is back as a 4% beer to provide a slightly lower ABV.
The brand has been given a makeover for its return to the UK market, with a new visual identity intended to provide stand-out on-shelf. The new look heroes both the brand's long heritage and Dutch provenance, as well as its swing-top bottle as the symbol of the uncompromising spirit behind Grolsch.
Tim Clay, managing director at Asahi UK, said: "Grolsch Premium Pilsner is back with a fresh brand identity and a brilliant, revitalised liquid, brewed at its iconic home in East Netherlands. The new packaging and in-store activations we've tailored for Grolsch's return are just as exciting, highly distinctive and full of character. We're delighted with the response and take-up from customers to date.
"This is a fantastic new proposition for the UK & Ireland market, building on Asahi UK's comprehensive suite of premium beer and cider brands. It comes at an important time, with a growing consumer preference for a range of ABV beers that also offer high quality and strong provenance. Grolsch Pilsner ticks all those boxes, providing great refreshment to suit any occasion, and with an excellent depth of flavour."
Asahi is planning to support the return of Grolsch Premium Pilsner with a multimillion pound marketing campaign from launch across 2021, including national above-the-line advertising, a range of premium point-of-sale materials, staff training, and both in and outside of outlet rate-of-sale driving promotional activity.