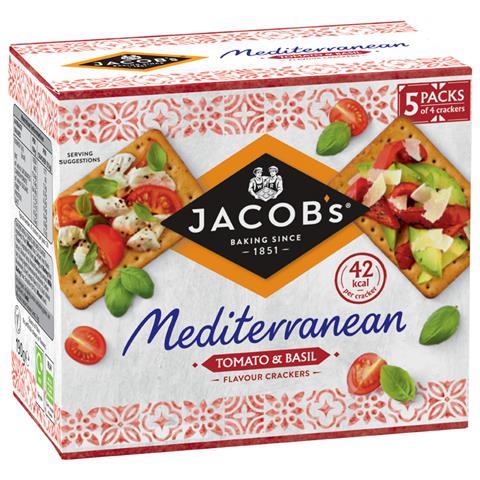 Pladis has launched three new crackers under its £79.5m Jacob's brand.
Jacob's Mediterranean, available in two flavour variants – Pinch of Salt and Tomato & Basil – is intended to bring a taste of sunshine to British shoppers' lunches.
And Jacob's Cheddars will launch in a new Red Leicester variety, to add an extra nutty cheesy crunch to picnics and lunches this summer.
Over the past few years, we've seen hundreds of thousands of new shoppers buy into the category," said Leighton Wall, marketing director – savoury, at Pladis UK&I.
"Starting out as a bread replacement when shelves were stripped bare in early 2020, now even more shoppers are reappraising the category as so much more than an accompaniment to cheese. Whether dunking into hummus, or topping with avocado, shoppers are considering crackers, crispbreads and savoury biscuits throughout the day, at lunchtime and beyond.
"Plus, with hybrid working set to continue for a significant proportion of the population, we're continuing to see shoppers break free from sandwiches and experiment with more exciting customisable lunch options, just like those offered in our Jacob's range."