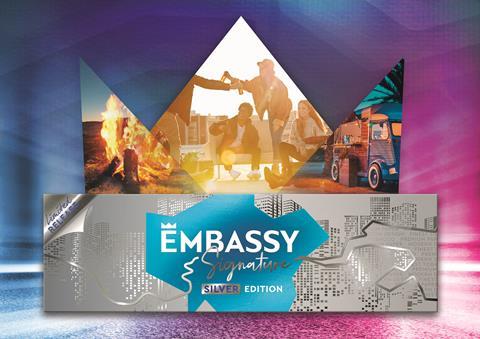 Imperial Tobacco is adding to its Embassy Signature range with the launch of a Silver Edition, available for a limited time only.
The company says the variant offers a host of new features usually associated with premium factory made cigarettes, but without the premium price tag, to deliver increased sales and profit margins for retailers.
Launching at the beginning of May, Embassy Signature Silver Edition benefits from special reduced smoke smell paper, a modern shaped filter and textured tipping paper to provide a "unique smoking experience". And packs have a resealable 'fresh protect' foil feature to maintain product freshness, so the last cigarette out of the pack is just as fresh as the first. In addition, branded trade outers promote the brand's modern design with a new luxury embossed sleeve.
The Embassy Signature Silver Edition will be available to buy until the end of September with an rrp of 10.15 per pack of 20, which Imperial says provides the same value as the original product, but with an "elevated" experience.