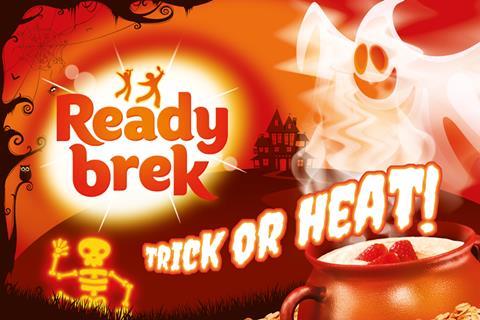 Ready brek is back on TV this month with its central heating for everyone creative, inspired by its glow advertising from the 1970s.
Alongside the TV slots, which will be supported via a social media campaign, Ready brek is also focusing on the Halloween occasion instore and in wholesale depots.
Point of sale with the strapline Trick or Heat will be supported by haunted house displays in retail complete with 3D roof sections and hanging bats, and there will be freestanding pallet arch display units in wholesale.
"We hope to grab shoppers' attention this year by having some great fun with Ready brek this Halloween," explained Ready brek brand manager Nanda Desai. "We're utilising our unique and distinctive brand colours and the famous 'Ready brek glow' that are just perfect for bringing to life at Halloween.
"We tend to see hot cereal sales start to increase in October. School has started, the nights draw in and the clocks go back. As the weather turns colder, consumers warm to Ready brek's nutritional credentials – all green traffic lights on the pack; oats, vitamins, minerals and no added salt or sugar."