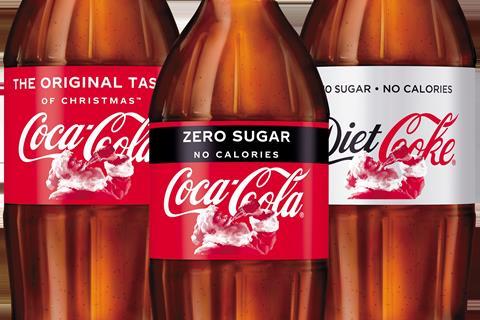 Coca-Cola European Partners (CCEP) kicks off its annual Coca-Cola Christmas countdown this month with the return of its special edition take-home festive packs.
Rolling out this month, 160 million QR codes will be printed on selected Santa packs of Coca-Cola original taste, Coca-Cola zero sugar and Diet Coke that shoppers can scan to unlock new and exclusive content every day throughout November and December.
The festive packs will be available across take-home formats including large PET bottles and multi-packs of cans and glass bottles to help shoppers bring a festive feel to their at-home Christmas celebrations. With more soft drinks being consumed in the home, Coca-Cola says sales of sharing packs are up 20% across grocery and convenience presenting a real opportunity for retailers this year.
The 'Holidays are Coming' TV advert will also return to the nation's TV screens and be supported by video-on-demand, cinema advertising and out-of-home advertising.
Simon Harrison, vice-president commercial development at CCEP GB said: "Sixty four per cent of consumers think keeping up family and Christmas traditions is more important than ever this year – and with 100 years of heritage at Christmas time, Coca-Cola has an important role to play in making that happen.
"Last year our soft drinks portfolio was the largest contributor to Christmas soft drinks growth, led by Coca-Cola but also Schweppes and Appletiser. We see this continuing for 2020 as consumers look for affordable ways to treat themselves. Fifty four per cent are planning to enjoy a sparkling drink with their special festive meal – and there will be many other social occasions in the weeks either side of the big day – so our advice to retailers is to stock up on Coca-Cola and our broader portfolio now."