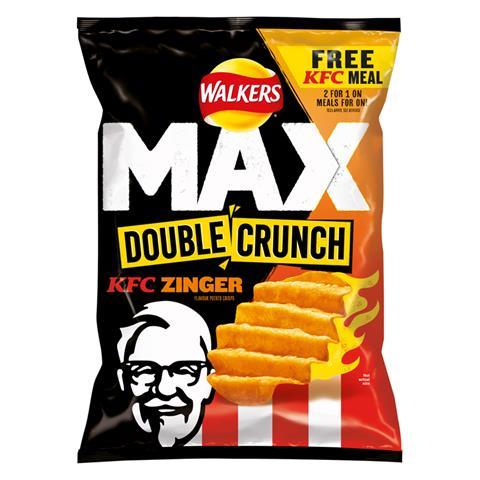 Walkers Max is teaming up with the fried chicken restaurant KFC to launch two signature flavours, Walkers Max Kentucky Fried Chicken and Walkers Max Double Crunch Zinger.
The launch will be supported by an on-pack offer and a multi-touchpoint media campaign that "just makes perfect sense".
Katherine Cook, Walkers Max senior brand manager at PepsiCo, said: "Our shoppers are all-in, they want bold flavour and excellent value – and they don't want compromise. The new Walkers Max KFC flavours offer the ultimate fulfilling snack, delivering the epic KFC signature taste that people know and love, with the familiar and satisfying crunch of Walkers Max."
The two new flavours will be available all-year-round, launching with a limited time on-pack promotion, giving consumers a 2 for 1 KFC meal with every pack. Consumers simply need to buy a promotional pack of Walkers Max Kentucky Fried Chicken or Walkers Max Double Crunch Zinger and take it to a KFC restaurant for takeaway. The offer will be valid until 31 July 2021, and can be used for dine-in at a later date, once restaurants have fully reopened, as long as customers hold onto their promotional crisp packs.
"A partnership between Walkers Max and KFC is a no-brainer for us; as there are a number of synergies between our brands," Cook added. "Our focus for 2021 is to bring smiles back to the nation – if it doesn't make you laugh, it isn't a Walkers campaign. We can't wait to share our campaign creative for the KFC flavours launch – it reveals something so clear; it's amazing we ever missed it. You'll have to wait until February until all is revealed…"