With powerful changes in consumer behaviour supporting growth in the forecourt and convenience sector, forecourt retailers are needing to adapt to drive change and keep pace with these new shopper missions.
A big shift in consumer behaviour is supporting the growth of the convenience sector, demonstrating the power of the shopping experience within modern petrol forecourts and motorway service stations. For some shoppers, stopping off at a forecourt convenience store is favourable to visiting the local high-street supermarket, based on the accessibility and range of products and services now available within them.
Keen to be at the forefront of change, forecourt sites are creating greater shopping experiences for consumers, alongside the essential services and facilities they are known for. As a result, partnerships, franchising and investments have allowed for the reshaping of the forecourt into something more all-encompassing and profitable.
These trends, along with technology developments, are a direct response to customer needs and demands – and they are likely to continue to evolve rapidly over the next five to 10 years.
Unlocking the opportunity
Travel and movement patterns have altered in recent years, with more people working from home, resulting in people travelling on the road at different times of day. These pattern shifts are also changing the way consumers view and use forecourt convenience stores.
Road-using consumers now want the same excellent store experience on a forecourt that they encounter on the high street. For fuel forecourt owners, this is an opportunity to deliver an outstanding customer experience. If done correctly, winners in this area will be sites that offer more than fuel and charging points; they will build compelling customer propositions that will appeal to a much broader range of consumer needs.
Ian Taylor, Spar UK retail director, says: "The consumer in-store experience plays a significant role in the future of the forecourt industry. They expect to see designated food-to-go areas and a credible convenience store offer.
"Forecourts are key infrastructures linking towns and cities across the UK. They are a vital location for all drivers.
"Nearly 37% of our Spar stores are on forecourt sites, making up a significant portion of our business," he adds. "We have examples of all our formats within our forecourt stores and we will tailor the offer, space and range to that format.
"This means that, if the Spar store is purely transient, we will set the store up to deliver grab-and-go, off licence and news and tobacco missions. However, if it is a site that also operates as the village shop, we will modify the range to ensure that staple missions, such as making a meal or offering store cupboard ingredients, are met."
However, it is important to remember that all forecourt sites have a customer segment that is transient, so owners need to ensure they cater for food-to-go, adds Taylor.
"Our new grab-and-go design route is only available to Spar stores that meet a specific set of criteria. This will depend on format, sales, mission, location type, and overall store design and operational standards."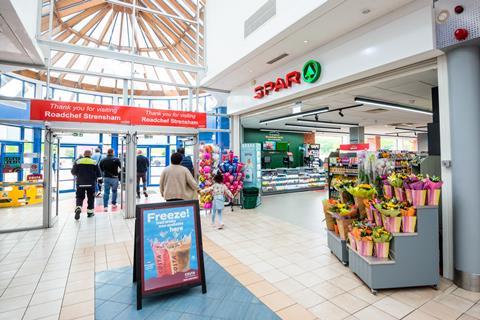 Development in action
One example of this new grab-and-go design is in Spar's motorway service partner Roadchef at Strensham North motorway services on the M5 northbound, between junctions 7 and 8.
The newly refurbished Spar store has the symbol group's latest design, with the format combining the great value proposition and a wide range of food-to-go solutions and shopper missions that meet the increasing demands from motorists visiting motorway outlets.
Roadchef's 1,900sq ft Spar store has undergone a huge transformation following considerable investment. The site has tuned into the 7,500 customers who visit it on a daily basis.
Chilled and food-to-go areas have seen the greatest change, with the new design creating real in-store retail theatre. The areas are contrasted with colours, materials, and neon lights to highlight the units. Additional food-to-go units include Chicago Town Pizza, Hudson Hotdogs, F'real Milkshake and a Squishee machine.
The store also has two Costa Coffee machines and a bakery unit freshly filled with croissants, pastries, and donuts.
Other shopper missions well catered for in the store are: meals for later, fulfilled with a comprehensive range of chilled foods; and making a meal, where the store stocks a range of frozen food and has introduced the COOK brand.
From a range perspective the store continues to stock a large selection of Spar own-label products, offering shoppers great value, choice and quality.
All low-level refrigeration at Strensham North has been replaced with more environmentally friendly high-level units on the perimeter walls of the store. This falls into part of Roadchef's aim to improve energy efficiency and the running costs of stores.
Strensham North has two self checkouts and electronic shelf-edge labels (ESELs) throughout the store, provided by EDGEPoS from Henderson Technology. The system gives live reporting on sales and margin, control and a range of functionality.
Kevin Whitehouse, retail, procurement and supply chain director at Roadchef, says: "We spent a great deal of time analysing what offer and design would best suit customers visiting motorway services at Strensham North with the team at Spar and we are delighted with the result.
"We chose Spar for its industry-leading store design and customer understanding, together with the strength of its brand and distribution platform.
"Our Spar store at Strensham North will offer drivers, and their passengers, a perfect blend of food-to-go products along with something for tonight's tea. We pride ourselves in providing a relaxing and convenient place for drivers to stop and we look forward to welcoming customers to our newly refurbished Spar store."
Ian Taylor adds: "We are incredibly pleased with the overall look and feel of the store but, more importantly, how the team have put together a proposition which will serve today's ever-changing motorway customer needs.
"As we move into the busy summer period, Roadchef Strensham North is the perfect place for drivers to stop on their journey and recharge. The entire team has brought a fresh approach to motorway food retailing."
Strength in the Spar brand
"If fuel forecourt operators and owners are looking to serve customers in 10 years' time, they need to invest in their stores in order to differentiate themselves and exceed customer expectations," he continues.
"A partnership with Spar means forecourt retailers are able to create profitable business models with new and modern store concepts. We look at a site locations, customer base, and data to make sure the right range is in the right store format.
"Partnerships and working with an agile business model is a must for the forecourt industry to thrive. Success will centre on getting the consumer offering and delivery right.
"The winning forecourt store model will assess its customer base, encourage customers to stop and visit and will meet all customer needs with convenience. Those who invest now will gain significant benefits for the future.
"In this fast-growing sector, success will come from working with a leading symbol group. We have the experience and knowledge and the agility to test new solutions quickly and play an integral role in meeting customer needs," Taylor concludes.
For more information, visit SPAR www.spar.co.uk and find how your can Become a SPAR Retailer | Independent Retailers | SPAR.