Mystery motorist on a mission… Shell Recharge, Fulham Road, London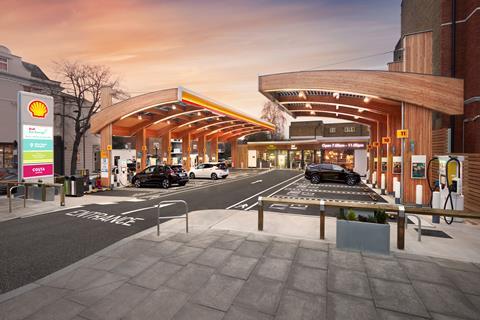 Time of visit: 11.45am
A bit of background
This is Shell's first EV charging hub in the UK. Previously a traditional forecourt, the petrol and diesel pumps have been replaced with ultra-rapid charge points. The oil giant describes it as a 'global pilot', as it is the first time it has converted one of its existing sites to cater solely for electric vehicles.
Kerb appeal
The site is easily recognisable thanks to its huge Shell logo on the pole sign. Under this there is a digital message that changes regularly. It communicates that this is an electric forecourt and says how many chargers are currently available. The pole sign also promotes the Little Waitrose store and Costa Coffee cafe. There is also signage saying that the nearest petrol/diesel Shell forecourt is located in Fulham Cross, which is about a mile away.
Pump action
The site features nine ultra-rapid 175kW charge points which can apparently charge most vehicles from 0-80% within 10 minutes. At the time of my visit seven were in use. Signage tells drivers that the chargers are run on 100% renewable electricity.
There are two bays for people who just want to use the shop or Costa.
Store style
The store is a Little Waitrose. It's quite compact but has a good range. There are some good deals across the store.
There is a Water Refill station for shoppers.
The Costa Coffee cafe is spacious but empty – I am the only customer in it despite all the vehicles charging up outside. There is digital signage in the Costa telling customers which chargers
are in use.
Comfort break
There are unisex toilets which have WCs that are locked and need to be opened via a 'hygienic' handle. The toilets flushed when the handle was closed again. It may have been me, but I didn't think they were particularly hygienic. There was too much touching; I prefer the ones you 'wave at' to get them to flush.
On a mission
To be honest my mission was just to check this place out. The site was smaller than I had expected – it is in London so it made sense – but it is very impressive.
Open all hours
7am to 11pm.
Impulse buys
Promotional space is used to highlight Mother's Day cards and Easter chocolates and there are some great offers, particularly on Waitrose-branded products.
Anything else?
A panel inside the shop is devoted to messaging that communicates the green credentials of the site such as the solar panels and the fact that Shell forecourts have 100% zero waste to landfill.
When pundits and experts talk about EV charging, they always talk about 'dwell time' and having facilities for drivers to use while their vehicles are charging. However, on this forecourt none of the seven drivers charging were using the Costa cafe. I asked the chap at the till about this and he said that mostly people buy something in the store then eat it in their vehicle. I also remarked to him that it seemed busy but he said it was much busier on weekends. Apparently they regularly get ICE vehicle drivers turning up expecting to be able to fill up.
I didn't use the chargers myself but did note that on some social media/review sites, drivers said the electricity was expensive (£0.49/kWh) and it didn't always charge fast enough.