Ilyas Munshi on EG Group's founding vision and rapid transition into a leading, global convenience retailer.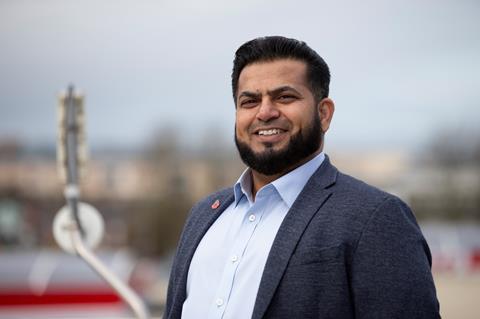 It's business as usual at EG Group as it confirms a record quarter of profitability, and reflects on the "resilience and differentiation" of its "best-in-class, diversified business model".
The headlines have also been full of announcements about EG Group's founders and co-CEOs, brothers Zuber and Mohsin Issa, who, with TDR Capital, have independently purchased supermarket Asda, with Walmart retaining an equity investment.
With the deal subject to strict processes and non-disclosure agreements before completion, answers to the many questions this prompts about possible collaborations between the two organisations will have to wait.
However, EG Group's Group Commercial Director, Ilyas Munshi was happy to talk about the continuing developments at the amazing Blackburn-based company that started out with one site in 2001.
"For us, it's business as usual," he stresses. "EG Group will continue operating independently to Asda. Where there are opportunities to collaborate and work together and invest, we will explore this in due course."
Coincidentally EG Group has recently begun a trial of an 'Asda on the Move' convenience store format at three sites in the Midlands - which had gained traction in advance of the Asda deal, and is part of EG Group's ongoing drive to innovate and excel in convenience retail.
"Convenience store retail is an exciting proposition for any of the supermarket businesses, and having a strong convenience store format is important for their strategic future," says Ilyas. "Asda, out of the top four supermarkets, did not have a convenience retail proposition. EG Group have a national network of petrol forecourts which have a convenience store on them so if there is mutual benefit, we can work to establish a robust customer offer."
The 'Asda on the Move' format is designed to give motorists the chance to shop for fresh food and essentials as they refuel their vehicles and will offer customers a comprehensive range of 1,500 products drawn from all key categories including bakery, fresh, chilled and ambient, including 'essentials' such as bread and milk, as well as food-to-go products. The format also features ToYou parcel points, allowing customers to order items via George.com and over 100 popular online retailers for collection or return.
EG Group is also working with Sainsbury's, trialling a 'Sainsbury's on the Go' proposition. Three years ago the two companies called time on a trial of Sainsbury's Local on EG Group sites, but following considerable learnings the latest format, Sainsbury's On The Go, were rolled out at some forecourts and roadside locations.
From the start, EG Group has recognised the key role of convenience, hence its considerable transition into a leading global convenience retailer with a diversified portfolio of more than 6,000 sites in 10 countries across Europe, North America, and Australia.
"For EG Group, convenience is a global phenomenon and market trend that we've embraced," explains Ilyas. "That's our legacy, our business model and the space we operate in. We understand that space, and will continue to grow so as long as we have confidence in the network or the assets that we're looking to acquire, and determine if we can add value to the existing consumer offer. By bringing the three key retail channels together - fuel, grocery and merchandise along with foodservice - under a single, managed operation, we have been able to prove that the method of site operation in terms of company owned, company operated, is very successful. "Our fundamental belief is that if you own the assets, you're able to invest in them and do something with them.
"The proof of the pudding is in our numbers."
EG Group's ongoing vision is to deliver a modern and compelling retail experience that achieves multiple missions in one convenient destination and always exceeds the expectations of customers.
"Look at the backdrop of Covid-19 for example," stresses Ilyas. "People were having to queue up at supermarkets, and then go inside and be faced with empty shelves.
"But we've been very resilient in terms of serving customers. Throughout the period, we focused our teams on ensuring product availability. We have not seen stock-outs – either in fuel or items on the shelves. Working closely with our brand partners, we made sure we could support the local communities we serve, especially in this time of need. Throughout the pandemic, our business model has proved to be resilient and the performance backs this up.
"Another key market trend was the confidence consumers have in big, established retail brands - and we excel in this space given the market-leading brand partners we work with. This challenging time has also shown that customers feel safe and comfortable using our sites - this goes back to the heritage of EG Group in terms of not simply acquiring assets but investing in them and effectively managing our locations.
"But during the pandemic we've also had to accommodate our staff, and other colleagues such as delivery drivers who come onto our sites. This required a massive piece of work, not just in terms of investing in PPE, for example, but also Perspex screens, masks, tissues, sanitisers and greater cleaning disciplines, but there was a whole knowledge transfer piece that was required in terms of how to operate stores and deal with Covid-19. As responsible retailers we had to make sure everyone is familiar with the rules and that takes time when you have a national network of around 400 sites in the UK."
Despite a difficult couple of months following the initial lockdown, especially on the foodservice side, which had to close, EG Group's petrol stations and convenience stores have been open throughout.
"The way I look at it, situations like Covid-19 or even an economic downturn, or anything that happens in terms of external factors, you get three types of entrepreneurs: those that bury their head in the sand; those who see it but do nothing; or those who adapt and change their business model," says Ilyas.
"And that's where EG Group comes in - during the recession of 2008 for example, when people were looking to sell sites, EG Group was buying sites. In a sector that was frowned upon - a distressed asset - we looked at it as an opportunity and bought sites and invested in them.
"We invested in the sector - and all credit to the Issa brothers for having the vision and the foresight to say 'this is something we believe in' and having that determination and ability to execute that vision as well."
Ilyas joined the business in 2012 when the company had 70 sites. "The vision has always been - let's grow the business. However, never in our wildest dreams would we have thought at that time of having a huge global network of over 6,000 sites, and employing more than 45,000 colleagues across the world. Our business has mushroomed and we have actively invested in additional resources and systems to help support this growth!"
The company is still very acquisitive - it recently bought another 18 sites in Colarado, US. "This shows that even in this climate, if the right assets come in front of us, we're willing to buy them," says Ilyas. "It's not just about buying networks and operating them, it's about investing in them as well. Back in the day we talked about AIM (acquisition, investment, management) and that's a model we've stayed true to. For us it's important we continue working hard - there are a lot of opportunities, and we want to continue to push the convenience retail envelope."
And so the innovations continue, with plans for an EG Club app, as well as ongoing trials of new foodservice trials with pizza specialists Sbarro and NKD pizza; plus the rollout of Cinnabon bakery by the end of the year.
"We will continue being honest to our business model and entrepreneurship," confirms Ilyas. It is far from journey's end, the EG Group adventure continues.