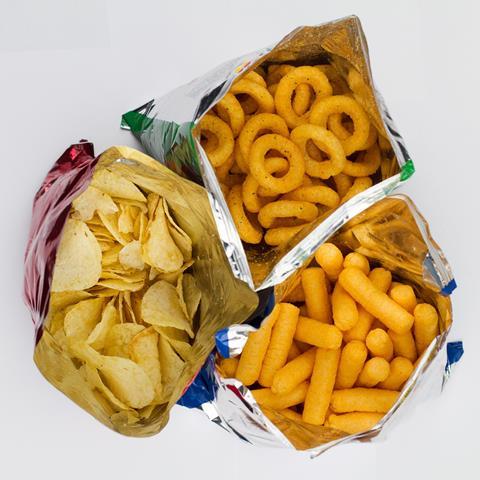 In the car, at your desk, in front of the TV, even in bed… wherever people are and whatever they are doing, you can bet that often snacks are involved. This is why the UK's crisps, snacks and nuts (CSN) market is worth £4bn and is growing by 10.7% year-on-year (Nielsen).
And Kantar data reveals that CSN shoppers are spending an extra £100 in the category, a figure which is up 14% year-on-year. As such CSN represents an important opportunity for forecourts retailers to grow sales and footfall.
Matt Collins, trading director at KP Snacks, says: "We're seeing dynamic change across the category and retailers can bank on bagged snacks to drive sales and footfall by stocking the right range and formats. Using the strength of our brand portfolio, we continue to look to help our retail partners adjust to shifting category trends and retain shoppers. KP Snacks has the broadest portfolio across all segments, with something to suit everyone and all occasions. Our snacks are consumed by over 20million households and our diverse portfolio has delivered 44% of the category's growth in the last five years (Nielsen)."
Growing sales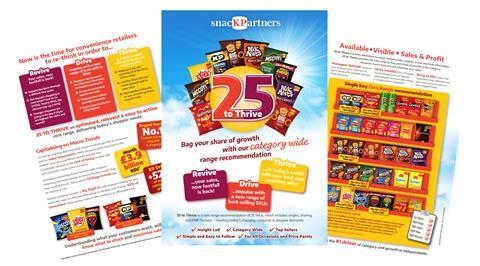 KP Snacks recently unveiled its newly developed '25 to Thrive' ranging advice to help retailers bag their share of growth. Providing a core recommendation of 25 SKUs to stock from across the entire category to drive snacks sales, '25 to Thrive' is said to offer comprehensive and impartial ranging advice.
Featuring a planogram, macro trends, market insights and key category advice, the '25 to Thrive' guide has been developed to help meet today's shoppers needs. The advice aims to support retailers in driving the critical CSN category, reviving their ranges to deliver enhanced sales and thrive in the current environment.
The 25 SKUs identified in the guide are the top-sellers from multiple suppliers. Encompassing a wide range of formats – from singles to sharing to price-marked packs (PMPs) – the 25 core range SKUs run across the entire value spectrum and meet all consumption needs.
As the cost of living remains high, the '25 to Thrive' guide identifies critical market trends which its recommended range caters to, including the increasing relevance of on-the-go snacking and meal deals, the growth of Big Night In occasions, and the importance of heritage brands as consumers look for trusted familiar favourites.
Collins says, "KP Snacks is committed to helping independent retailers thrive and prosper in the bagged snacks category. For retailers, simplicity in ranging is key so '25 to Thrive' highlights 25 core SKUs covering a spectrum of shopper missions, occasions and top sellers across the entire value spectrum. By stocking this range, retailers can benefit from this growth category."
Flavour force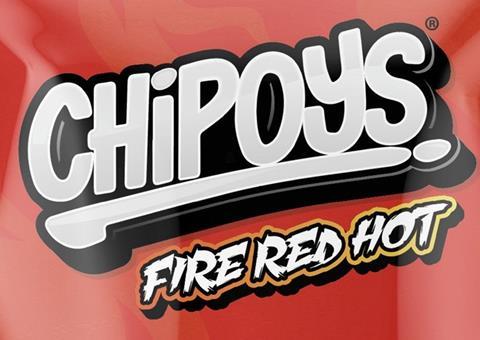 There's no doubt that snacks are all about the flavour and there's plenty of flavour innovation to get consumers' tastebuds excited.
Nic Storey - senior sales director - impulse and field sales at PepsiCo, says: "We know that consumers enjoy experiencing new textures and strong flavours, with cheese, salted and hot & spicy being the top three flavours for savoury snacks (PepsiCo research). We also know that they are constantly looking for ways to add excitement to their snacking occasions and in 2022 we launched two new non-HFSS Walkers MAX Strong flavours (Hot Sauce Blaze and Fiery Prawn Cocktail) to tap into growing consumer demand for bold and recognisable flavours."
Reid says they are also seeing demand from Gen-Z consumers for new and exciting flavours that they can enjoy during sharing occasions. To this end, PepsiCo expanded its Doritos range with two new flavours that are inspired by one of the nation's favourite takeaways – pizza. And the Loaded Pepperoni Pizza and Triple Cheese Pizza flavours have more corn to deliver more of a Doritos crunch.
At Envis Snacks, they are capitalising on the popularity of both American products and Mexican hot flavours with their latest line – Chipoys. These are rolled tortilla chips available in Fire Red Hot and Chilli & Lime flavours, in a 113g bag with an rrp of £1.99.
Andy Brown, director at Envis Snacks, says the company's focus for the forecourt market is to continue to offer great value, differentiation and availability to add incremental sales and complement the best sellers in the market. "We are seeing great sales for our range of X-cut crisps including the recent additions of Chilli & Lime and the WOW lines including Jalapeno that add excitement to the category along with some exciting stronger flavours to help capture sales and keep forecourt consumers engaged."
One brand that combines 'better for you' benefits with great flavours is popchips which has a new Hot & Spicy flavour.
Dayna Riordan, popchips brand team, says: "We are really excited to be expanding the popchips portfolio with such a punchy flavour that is set to bridge the gap between mainstream and better for you by appealing to shoppers looking for a light snack with a real flavour kick. With both the spicy flavour profile and healthier snacking segment growing, popchips Hot & Spicy is well-positioned to drive sales for retailers."
Less salt = more sales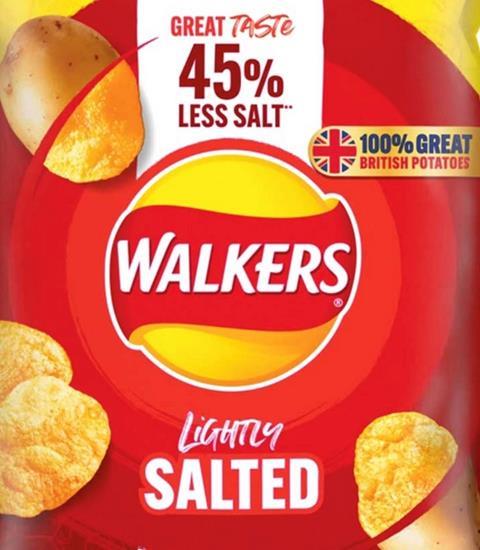 Health is undoubtedly a priority for many shoppers with the healthier snacking segment continuing to grow (up 33.8% year-on-year – Nielsen). And although many forecourt stores have avoided the HFSS regulations, they can still cash in on the healthy eating trend by stocking new HFSS-compliant products.
Through its HFSS reformulation programme, KP offers over 100 non-HFSS SKUs across its brands including Tyrrells, popchips, Hula Hoops Puft and Penn State, equivalent to a quarter of its snacks portfolio.
Over at PepsiCo, they have another hit on their hands with Walkers 45% Less Salt, which launched last year and is already a £30m brand and is estimated to be in over 16% of UK households (Nielsen data).
Walkers 45% Less Salt contains nearly half the salt of a regular potato crisp. This has been made possible by using new flavour technology to replace the sodium and rebalance the taste.
Made with 100% British potatoes, the range launched with three flavours: Mild Cheese & Onion, Lightly Salted and A Dash of Salt & Vinegar, but has recently expanded with the addition of Delicate Prawn Cocktail.
Walkers 45% Less Salt was one of several new product launches from the brand last year, as it declared its new health ambition that half of its sales would come from snacks that do not classify as high in fat, salt and sugar (HFSS) or from portions of 100 calories or fewer, by 2025.
Walkers says that a year on, 30% of its sales are from healthier alternatives and two-thirds of all new products launched in 2022 were not classified as high in fat, salt or sugar.
It says the popularity of Walkers 45% Less Salt suggests growing consumer demand for lower-salt snacks as 79% of people surveyed for Walkers said that eating less salt is important to their health. And despite the range containing nearly half the salt, it has performed well in consumer taste testing with eight out of 10 consumers stating that it exceeded expectations and there was no perceived taste compromise with less salt.
A raft of other brands in the Walkers' portfolio have also switched to non-HFSS in the last 12 months, including Walkers Baked which continues to be a top-selling brand with sales over £70m (Nielsen). Other non-HFSS product launches in the last year include Doritos Dippers, Doritos Pizza, Max Strong, PopWorks and Snack a Jacks.
Adding value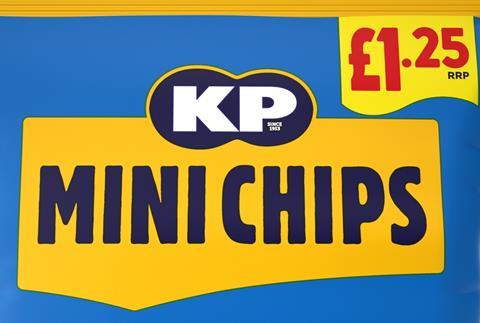 Price-marked packs (PMPs) have an important role to play in the crisps and snacks arena. According to Nielsen, PMPs are worth over £293m in the CSN category, with 54% of snack shoppers purchasing them, which is more than any other category (Lumina).
KP says its portfolio of large PMPs is currently worth £97.3m and is growing at a rate of 45.9% (Nielsen). Collins says: "We are continuously expanding our PMP portfolio to add value to retailers with both variety and promotion."
He urges retailers to capitalise on the growth of PMPs, because they offer great value-for-money perception and have been a key driver of growth for convenience.
However, not all retailers like PMPs. Brown at Envis Snacks, says: "We allow retailers to ensure they can manage their margins in these challenging times by offering PMPs and non-PMPs. Our Lorenz range (Pomsticks, Curlys, X-cut and WOW) are non-price-marked so that forecourt retailers can set pricing and margins that are right for them and their location."