The healthy snacking category is flourishing thanks to changes in consumer habits and lots more better-for-you products being available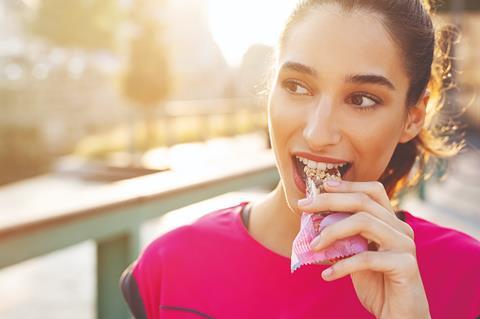 We're in the middle of another lockdown and that means more people spending more time at home. Whether sitting at a makeshift desk working or in front of the TV, it all typically leads to one thing – more snacking. However, the good news for the nation's general health is that people are trying to snack on healthier foods.
According to data from Lumina Intelligence, 29% of convenience store shoppers are eating more healthily than they were before the Covid-19 pandemic began, and 46% of c-store shoppers are trying to make healthier decisions when it comes to snacking.
Sarah Coleman, insight and communications director at Lumina Intelligence, says: "Healthier eating is a trend that continues to gather pace, particularly around snacking. During the pandemic, we have seen an increase in snacking occasions, as consumers graze throughout the day while working from home. As a result, demand for healthier options is growing, with nearly half of consumers trying to make healthier decisions when it comes to choosing what to snack on. Retailers need to remain aware of the needs of their shoppers and adapt. While the three most popular snacks continue to be crisps, confectionery and biscuits - fruit, yogurts, nuts and protein bars are gaining momentum. If retailers do not act they risk alienating their customers."
Dave Pogson, UK managing director of Fulfil Nutrition, believes the forecourt channel is well placed to leverage the growth within the impulse snacks category thanks to the high rates of sale of protein products in small store formats. He says 48% of protein bar sales are incremental to other snacks (Lumina data), so stores need to dedicate space to future-proof and capitalise on growth.
As for what to stock, Pogson says: "The number one priority for consumers is taste and what sets our products apart from others is first and foremost taste. Fulfil is an accessible brand that spans the indulgent snacking space while being healthy, which shoppers relate to in their choice of snacks."
Best sellers
Nakd is another brand doing well in forecourts, where its best sellers are its Blueberry Muffin, Cocoa Orange and Peanut Delight bars. Nakd senior brand manager, Louise Cullinane, says: "Our single bars are popular in forecourt shops as people are looking for a grab-and-go option and they contain the attributes that healthy snacking consumers find increasingly appealing such as 100% natural ingredients, are naturally high in fibre and contain no added sugar."
At Kind, their top three best sellers are: Dark Chocolate Nuts & Sea Salt; Caramel Almond & Sea Salt; and Peanut Butter Dark Chocolate.
Harry Jose, category and customer marketing manager at Kind says: "They sell well because they perfectly bridge the gap between the indulgence most consumers crave, while being better for you. Shoppers can get the 'chocolate' hit they're after from a handful of nutritious, high-quality ingredients.
"Forecourts should stock Kind because the healthy snacking category may be young, but is forecast to grow at six times the rate of traditional confectionery for the next five years. Kind is already the UK's number one snack bar singles brand (Nielsen data) and will therefore be one of the crucial brands in bringing new consumers to the category. This shift will only be accelerated by the global health crisis and potential government legislation aimed at targeting obesity."
Typically, healthier snacks can appear to be more expensive than their less healthy counterparts but Cullinane says consumers are willing to pay more for health but only if the attributes they are looking for, such as natural ingredients and being vegan, are delivered in a great-tasting product.
"This is supported by research which shows that taste is way out front as the most important factor when choosing a snack, with health and then price following it.
"At Nakd we pride ourselves on delivering great-tasting products which we want everyone to be able to enjoy so we work hard to ensure we are competitively priced."
Jose at Kind says it's definitely true that many healthier snacks are more expensive than less healthy counterparts and for some this is an issue – the typical rrp of a Kind bar is £1.49.
He adds: "Consumers are looking for products with additional benefits (eg 66% of consumers are looking for products high in protein – Kantar) and they're willing to pay for it. Many of the top performing healthy snacking SKUs outrank their cheaper counterparts in terms of £/rate of sale and it's worth considering that often people only eat unhealthily because there is no other option."
Pogson agrees that consumers are prepared to pay more and trade up for tasty healthier alternatives: "The retail price for most consumers is an affordable upsell from less healthy confectionery products as they understand the benefits to their snacking habits.
"On average shoppers buy 1.8 bars per shopping mission (Kantar), which shows the propensity for the category. Fulfil's 40g bar (rrp £2) is ideal for consumers wanting to enter the category and we invest in promotions and pos to drive visibility. We have prefilled clip-strips, counter display units and shelf-ready packaging to give maximum visibility where Fulfil can
play a beacon role to signpost the category."
There is also customer loyalty to consider as Mike Simons, head of category at Grenade, says that over 50% of shoppers who purchase Carb Killa for the first time become frequent purchasers within the category (IRI data).
"This ever-growing awareness, trial and loyalty of Carb Killa, twice that of its nearest competitor, is vital for incremental growth to a retailer's snacking range and delivers long-term growth potential for the snacking category. Through offering the core Carb Killa range, retailers can benefit from this customer loyalty alongside having the highest cash rate of sale of any protein bar in the UK."
Simons says the biggest barrier to purchase is from shoppers being unable to locate the range in-store. He therefore recommends that retailers create permanent space for Carb Killa in high footfall, impulse-led locations such as front of store or beside your confectionery range.
Meanwhile, Pogson says Fulfil should be placed in the impulse snacking zone, adjacent to confectionery and also by the till points to capture impulse sales.
According to Cullinane, clear signage and labelling of 'healthy' or 'better for you' snacks is key in attracting shoppers while in store. "Research shows that two-thirds of shoppers want to see healthier snacks ranged in a dedicated area within the main snacks aisle and next to similar products (Lumina Intelligence Healthy Snacking Report)."
That same Lumina report found that 86% of healthy snacking shoppers would be 'interested' or 'very interested' in having more healthy options in meal deals.
Pogson thinks including protein bars in meal deals is an excellent idea. "Retailers need to offer a healthier meal deal while also allowing them to justify a higher retail price for it. The key is ensuring the meal deal elements are visible and easy to shop so adjacency with confectionery is a must."
When it comes to savoury snacks, vegetable and pulse-based products offer a great alternative to traditional crisps and snacks. Key healthier cues in the mainstream market are oven-baked and not fried with lower calories however Jon Wood, commercial director of Calbee UK, says being oven-baked and not fried, with less than 100 calories per portion will not suffice long term.
"Consumers are becoming more familiar with nutritionals and are starting to understand that some products aren't as healthy as they appear. This often triggers a strong emotional response, especially with children's snacks. Red, amber and green GDAs (guideline daily amount) are key to the success of healthy snacking brands as consumers must be confident with their choices. The challenge is to launch healthy snacks that can thrive and endure. Products must be mainstream and familiar to the consumer with a broad appeal across all demographics, life stages
and occasions."
Wood says Calbee identified a gap in the market: "Snacks tend to jump from the baby aisle with few products suitable for two to nine-year-olds." The solution to this is Calbee's Paw Patrol oven-baked pea snaps and Trolls World Tour chickpea sticks. Aimed at children aged two to five, the Paw Patrol range comprises gluten-free snacks with all green and amber GDAs, that are lower in calories, fat and saturates than standard potato crisps and are vegetarian friendly.
Meanwhile, the Trolls World Tour product is aimed at five to nine-year-olds and comprises vegetarian and vegan friendly products that are lower in fat and saturates than standard potato crisps.
Finally, in addition to the specialist healthy snack brands, the major snack players now offer better-for-you products.
Matt Collins, trading director at KP Snacks, says that when looking for a healthy snack, 37% of shoppers cite 'brand recognition' as an important factor (Nielsen). "Snacks can be enjoyed as part of a balanced diet and retailers are following this mindset by giving more space to lighter alternatives. We've been a significant part in this change, and through our 'Taste for Good' programme have been working on improving the health credentials of our products and the way we market them."
KP's healthier offer includes the £31m Popchips brand. These chips contain a third less fat than the market leader and come in at under 100 calories per serving. In addition, Popchips ranks at the number one better-for-you bagged snack in the sharing segment (Nielsen).
Then there is Hula Hoops Puft, which enjoys a loyal repeat rate of 60% (Nielsen).
Finally, at Walkers, there is the Oven Baked range which brand owner Pepsico says has been 'hugely successful' and is enjoying nearly 25% sales growth (Nielsen).
In great shape
Following a successful pilot in its Strensham and Norton Canes Services, Roadchef now stocks a wide range of Eat Real snacks in all 30 of its UK locations. Mike Jackson, director of supply chain management at Roadchef, says: "They're proving very popular and despite low visitor numbers during the height of the first lockdown, the overall rate of sale within Roadchef service areas has risen by more than 20%. This just goes to show that consumers now expect to find a healthier snacking option while on the move."
New products
Nákd is building on the launch of its Drizzled Chocolish Bars with the launch of a new, bigger 50g bar. The Big Bite bars come in three flavours: Peanut Chocolish, Double Chocolish and Raspberry Chocolish. They are already listed by BP and Shell.
The Zeroh! brand offers consumers' favourite biscuit varieties baked without sugar, salt or palm oil but with the good fats in high oleic sunflower oil. The latest addition to the Zeroh! range is Choc Chip Cookies.
Loaded Fries is Calbee UK's first branded snack under the Seabrook name. The company says the product brings a modern, on-trend twist to everyday snacks with its two 'restaurant favourite' flavours: Cheese & Bacon and Chilli Heat.
Perkier has added +Immune bars and plant-based porridge pots to its range. There are two bars: Nutty Toffee with Dark Chocolate and Salted Caramel with Dark Chocolate; and three porridge pots: Golden Syrup, Cranberry & Chia and Original.
Popchips has a new pack design featuring core ingredients for better brand standout.
Bestway trials healthier options in Croydon depot
Bestway Wholesale, which supplies some 125,000 retailers and caterers from 58 warehouses across the UK, is working with Rice Marketing (appointed by Guy's & St Thomas' Charity – GSTC ) to undertake a Good Food Wholesale pilot. GSTC is an urban foundation which has undertaken a 10-year programme to understand the levers required to reduce childhood obesity in Southwark and Lambeth.
The team wants to understand the role of convenience stores in improving the food environment for local people who have a reliance on these stores for their daily needs. The trial follows the summer launch of the government's latest anti-obesity strategy, which aims to help people lose weight.
Bestway says it has a commitment to its local communities and therefore sees this pilot as an important component in its corporate social responsibility to do the right thing for its local customers.
For the Good Food Wholesale Pilot, 100 healthy choice products were chosen from the existing Bestway range. Items were selected that represent a healthier nudge in each of the core convenience categories of groceries, fresh foods, bakery, frozen, soft drinks, crisps and snacking.
The pilot identified gaps in the existing range and identified key suppliers to spearhead the campaign and be involved in depot sampling.
Suppliers that have been introduced to showcase the healthier choices campaign include Graze and Alpro as well as new incubator suppliers, Insane Grain and Jim Jams.
Croydon is the trial depot and Bestway will take learnings from this to develop a strategy to launch a healthier campaign
for Jan 2021.
KP encourages men to check their nuts this Movember
KP Nuts has joined forces with men's health charity Movember for the second year running to use its brand awareness to get more people talking about testicular cancer, the most common form of cancer affecting young men.
As testicular cancer can be a taboo subject, the KP Nuts campaign, featuring actor Wil Mellor, is using comedy to raise awareness of the importance of men checking their nuts, using nut jokes and puns to break the ice. The jokes feature in a KP Nuts online guide and video to help men and women start conversations with loved ones about testicular cancer.
Jenny Blanco Barcia, KP Nuts marketing manager, says: "KP Nuts is the UK's most well-known and best-loved nut brand. We want to use our brand awareness to help raise awareness of testicular cancer and get people talking about it. Men up and down the country are opening a packet of KP Nuts over a beer… the perfect moment to share nut jokes and break down taboos with comedy."
KP Nuts is the number one brand in nuts, more than six times bigger than its nearest branded competitor. The brand was originally launched in 1953 and is now worth £73m and is growing in value by 14.2% (Nielsen data).
A recent Mintel report found that 76% of consumers recognise that nuts provide a positive source of energy, fibre and protein which is becoming more and more important to today's shoppers.
KP Snacks says its nuts play well to these dynamics with their high protein content and more natural credentials. Packaging highlights the protein and fibre content of the nuts to appeal to health-conscious shoppers.
FAST FACT
86% The number of healthy snacking shoppers who want more healthy options in meal deals (Lumina)