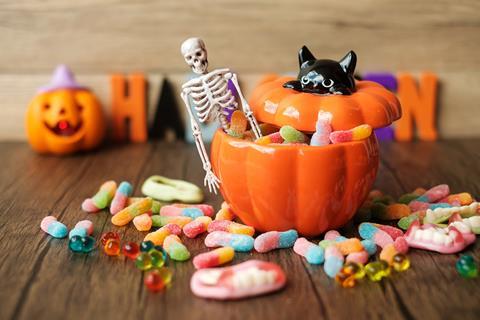 The supermarkets tend to make it easy for families to celebrate occasions such as Halloween. Shoppers are greeted by mounds of pumpkins and elsewhere can stock up with affordable sweets for Trick or Treating. Asda has long been the go-to place for costumes and, amid a cost-of-living crisis it still has some great value outfits. Prices start at £7 for a Robot Skeleton or Glow in the Dark Gamer Skeleton and even the more elaborate ones cost just £15.
Of course, not everyone can get to a superstore and so many people rely on their local shop for Halloween 'essentials' plus you always get those last-minute merchants who don't realise it is Halloween until the day is actually upon them. And this is where the well-stocked forecourt store comes in. However, Susan Nash, trade communications manager at Mondelēz, warns that as Halloween is a shorter selling period when compared with the likes of Christmas and Easter, it's key to have a mix of both seasonal lines and regular SKUs. That said, it can be hard to resist stocking some of the gruesome goodies on offer.
Cadbury is a top pick for Halloween, indeed in research undertaken last year, analysis platform Vypr revealed that Cadbury fun-sized chocolates were the number one choice for consumers for Halloween followed by Mars then Haribo then Swizzels.
Nash comments: "Halloween is a valuable opportunity for retailers – in 2022, just under half (47%) of all consumers took part in Halloween in some form (Snackchat Halloween study). This meant that the total chocolate category was worth £20m during the season, while biscuits were worth £15m (Nielsen)."
She says the top-selling products are typically sharing-style confectionery in tubs, treatsize multipacks and large pouches. "These formats are perfect for all of the various ways that consumers mark the occasion, whether it be welcoming Trick or Treaters, entertaining friends and family, or enjoying a big night in."
Last year, Cadbury Dairy Milk Buttons, Cadbury Dairy Milk Freddo & Friends and Cadbury Family treatsize packs were three of the top 10 SKUs, with Cadbury Family treatsize 216g the biggest selling SKU of the whole Halloween season (Nielsen).
Nash also mentioned the popularity of biscuits at Halloween and this year Mondelez is extending its partnership with Merlin Entertainments to offer savings to places such as Alton Towers across seasonal packs, including Oreo Spooky biscuits and Cadbury Skeleton Fingers.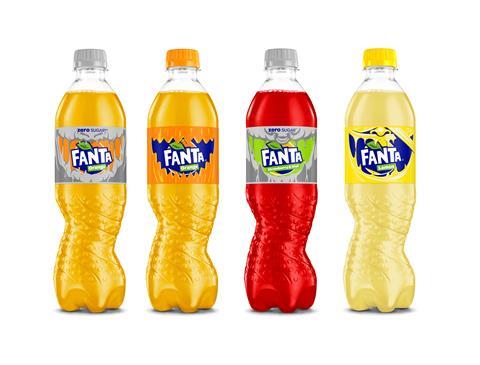 Another brand with an on-pack promotion for Halloween is Fanta. Running until November 7, the promotion invites shoppers to scan QR codes on limited edition packs of Fanta which will take them to the Coca-Cola app to play a Halloween game and then find out instantly whether they've won a prize from Fanta's £70k prize pool – or a scary surprise. Prizes range from cash and horror experiences across the UK, to home entertainment systems and supplies for a scary movie night in. Those who don't win a prize will receive a 'scary surprise' in the form of exclusive digital content to scare their friends and family with instead.
Fanta is a brand that has done very well at Halloween. Rob Yeomans, vice-president, commercial development at Coca-Cola Europacific Partners GB, says: "Fanta has become synonymous with Halloween, and last year contributed almost a third (31.6%) of total flavoured carbonates growth during Halloween , with one in four flavoured carbonates soft drinks sold being a Fanta (Nielsen). Fanta Zero also helped to recruit new shoppers into the Fanta brand, growing by 4.4% value growth over the Halloween period.
"We're confident that Fanta's biggest ever £70,000 prize pool and disruptive marketing activity, will help Fanta and our customers achieve another year of strong growth at Halloween. We'd advise retailers to get creative this Halloween with cross-category displays to deliver in-store theatre to engage shoppers and drive sales."
Back to confectionery and Florence Kayll, senior brand manager, Easter and Halloween at Mars Wrigley UK, says the cost-of-living crisis has impacted consumer shopping habits across the board, and Halloween has not been immune to this trend. "We are seeing that households with less disposable income are opting for smaller packs at a lower price point, while those with more disposable income are opting for bigger and arguably better value packs." She therefore recommends that retailers offer an assortment of affordable Halloween confectionery that caters to different budgetary constraints. "By providing an extensive array of inexpensive options and varying pack sizes to provide trade up, retailers can capture a broader customer base and stimulate sales."
Mars Wrigley is focusing on delivering its core range of products to consumers this Halloween. This includes Celebrations Tubs, which provide individually wrapped chocolates that are ideal to offer Trick or Treaters and are also well-suited to consumers hosting a seasonal party. Another core part of the range are Mars' More to Share bags and Fun Size packs.
Halloween is, of course, a key time for sugar confectionery sales and this Halloween, Mars Wrigley is bringing back Skittles Darkside. The limited-edition comes in an indigo bag and contains dark-coloured sweets in Dark Berry, Midnight Lime, Blood Orange, Wicked Pomegranate and Sweet Strawberry flavours.
Mark Roberts, marketing and trade marketing director at sugar confectionery firm Perfetti Van Melle, says Halloween is one of the brand's biggest seasonal opportunities, and they always encourage strong visibility within stores to maximise sales.
"The retailers who put the most into the season have the biggest impact at this time of year. The retailers that do it best are those who make the event their key focus, cultivate in-store theatre and earmark key space as a 'one stop shop' for everything the customer might need, including decorations and other cross-merchandised goods," he says.
Roberts adds that Fruit-tella is a major player at Halloween because of its many different pack formats, including £1.25 price-marked packs. Chupa Chups are also popular thanks to their sharing bags of individually wrapped lollies, sour lollies and Chupa Minis.
Meanwhile, confectionery wholesaler Hancocks' Halloween range includes launches from brands including Crazy Candy Factory, Candy Realms, Bonds of London and Bubs.
Crazy Candy Factory's new Zombie Brain is a strawberry gummy brain in a candy red liquid while Candy Realms new Halloween offering includes Spooky Tubes, Alien Balloons with Popping Candy, Skull Candy Pops and Spooky Mallows.
Sour notes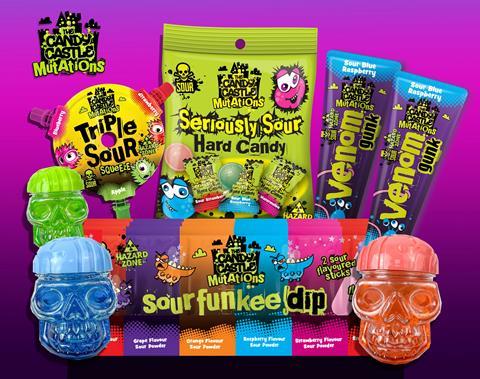 Rose Marketing UK has unveiled the new Candy Castle Crew Mutations range which is described as perfect for people who like to challenge their tastebuds. There are six products in the range: Sour Belt Rainbow Roll; Triple Sour Squeezee; Sour Funkee Dip; Super Sour Skull; Extremely Sour Hard Candy and an extremely sour Venom Gunk. Each pack features a 'Sour Meter' that rates the sourness of the sweet treats from sour, super sour to extreme.
Moving on to snacks and Matt Collins, trading director at KP Snacks, says that to capitalise on the popularity of Halloween, retailers should offer themed fixtures and special promotions, while prioritising sharing crisps, snacks and nuts (CSN) products.
"Worth over £1.6bn, sharing is the largest segment in CSN, and growing at +13% MAT (Nielsen). Some 49% of shoppers see snacks as a 'must have' for an evening in and, as recessionary conditions prevail, shoppers will look for tasty treats to make in-home occasions feel more special, with 62% viewing having snacks in the evenings as an affordable treat."
Naturally packed with protein and fibre, Collins says KP Nuts appeal to shoppers on both taste and health cues, catering to those looking for healthier products that don't compromise on great flavour.
"Our iconic KP Nuts range includes perfect sharing choices for Halloween parties and gatherings. Leading the segment as the UK's number one nut brand, worth £95.8m and growing in value +18.1%, KP is nearly five times the size of the nearest branded competitor and holds a 25.9% share of the segment (Nielsen).
Another of KP's big brands is Butterkist which is nearly twice the size of its nearest branded competitor, with a 36.6% market share (Nielsen).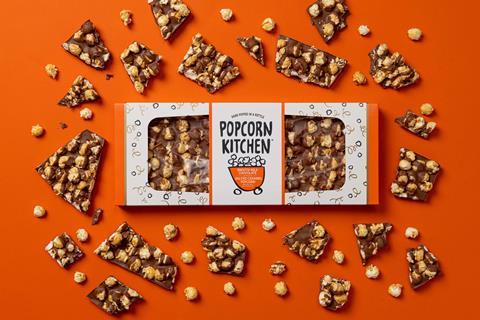 Meanwhile, Popcorn Kitchen offers consumers a great home-popping experience with its Halloween Popcorn Kit. Each Popcorn Kitchen kit (rrp £12.99) is full of mushroom popcorn kernels, Belgian chocolate chips and orange chocolate buttons.
Popcorn Kitchen founder Louise Webb says: 'We always knew there was real scope for a 'make-it-yourself' popcorn kit within our far-reaching product portfolio but have been blown away by the popularity of these home poppin SKUs, which provide the perfect sharing experience for parents and children."
In addition, in time for Halloween, Popcorn Kitchen is launching three new chocolate popcorn bars: White Chocolate & Raspberry, Chocolate Orange and Salted Caramel. The 100g bars retail at £4.99. Also available is a giant 750g bar of the Salted Caramel variety, which retails at £24.99.
Webb says that in the past popcorn chocolate bars have disappointed consumers because they have been made with low-grade chocolate and have featured soggy popcorn with zero crunch. "Popcorn Kitchen effortlessly bats all these historical hinderances away with three sublime sweet-treat sensations," she explains.