More and more consumers want their protein from a snack – are you providing them with what they need?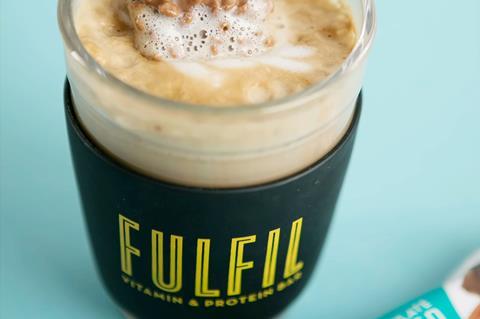 Snacking hasn't changed, but what consumers snack on has. Those are the words of Jo Dell, head of category and shopper marketing at Fulfil.
"People are more demanding of their snacks, with 80% of consumers now snacking with purpose. We are increasingly seeing 'traditional snacks' being replaced with snacks that deliver a beneficial purpose as people make more informed snacking choices," she explains.
She adds that shopping missions within the protein category have evolved alongside this shift in consumer behaviour. "Within forecourts this provides a real opportunity across three key missions, whether it's a snack on the go as part of the everyday snacking routine, a bar that acts as a meal replacement on those longer journeys, or as an accompaniment to a coffee or water purchase. The protein bar category has evolved from the traditional core sports protein offer to a mainstream lifestyle snacking choice."
And this is definitely good news for the category as, according to the latest IRI data, value sales have grown by 69% in the past year and continue to grow. Dell says Fulfil is leading this growth as the fastest-growing protein single-bar brand in the UK. "Within forecourts and travel, Fulfil's growth is further amplified growing +184% and delivering over 37% of the overall value growth contribution.
"Looking more closely at the travel sector, where motorway services form a key part, Fulfil is the number one protein bar brand with a 43% share."
Dell says Fulfil's success is based on meeting the customer demand for healthy snack bars through a "unique combination of great taste and health benefits, added vitamins and protein". We identified a gap in the market and created a snacking range that delivers on health and taste in equal measure. Our bars contain nine vitamins, each providing 30% of the recommended daily allowance. We also have a range of formats with our 40g and 55g bars."
Forecourt listings
The brand has recently launched in more than 400 Shell forecourt stores and Fulfil is working with Shell on a launch plan to drive visibility and further grow the protein bar category.
The bars can also be found in BP, Euro Garages, MFG, Welcome Break and Moto sites.
When it comes to flavours, Dell says consumers have a very clear repertoire so it's important to focus on ones that will deliver scale and repeat purchases.
"Salted Caramel, Peanut and Hazelnut are particularly popular within the category so retailers should ensure they focus on a core range of best sellers and minimise more niche flavours." Fulfil's latest launch is of White Peanut & Caramel.
"Flavour innovation is hugely important – sports nutrition is increasingly becoming a 'pick n mix' and protein bars are becoming closer to candy bars with incredible flavours and bar formats," says Kieran Fisher, founder of KBF Enterprises and Warrior. "Protein bars are the new confectionery and the key to winning consumers is attractive branding, amazing flavours and a winning price."
Deliciously decadent
The latest flavour to join the Warrior Crunch range is Dark Chocolate Raspberry. The product description says it has a "deliciously decadent dark chocolate coating with an indulgent raspberry-flavoured centre" and less than 239 calories per bar. It also has less than 1g of sugar but 20g of high-quality, milk protein.
Meanwhile at Grenade, the latest launch is of a Lemon Cheesecake flavour containing 21g of protein and just 1.6g sugar. However, you wouldn't think so from the product description: a lemon and vanilla-flavoured nougat centre, topped with a zesty lemon curd caramel layer, blitzed with biscuit bits and covered in white chocolate.
Rachel Austerberry, head of convenience and high street at the company says: "Low-sugar and high-protein credentials continue to be a key purchase driver for people intent on improving their health, with 29% specifically focused on sugar reduction. Accordingly, retailers should place low-sugar, high-protein products – like Grenade's protein bars and shakes – in prominent store locations, with impactful POS such as shelf toppers and barkers to grab customers' attention. If space is limited retailers should make the most of their stands, situated near the counter, to turn waiting time into buying time."
Focus on taste
Swedish brand Barebells first launched in UK gyms in 2018, before its expansion throughout the sport and fitness, retail, convenience, and foodservice sector. Maria Ledesma, trade marketing manager UK & Ireland, says: "A key focus for Barebells has always been taste and our current portfolio was made to combine the nutrition and healthier profile that's now expected, but in a brand that people love and with products that taste much more indulgent than their nutritional info suggests. Positioning ourselves as a lifestyle product has been the key to our success."
The company offers bars and shakes where the bars contain 20g of protein and the shakes 24g. Ledesma says the milkshakes are growing quicker than bars in forecourts, and perhaps that's because they are easier to consume on-the-go. Best sellers across the bars range are the Salty Peanut, White Chocolate Almond and Caramel Cashew bars, but Ledesma says the new White Salty Peanut bar is doing really well considering it only launched in January.
Of course, many mainstream chocolate bars have made the move into protein and the latest from Mars Chocolate Drinks & Treats is Snickers Peanut Brownie Hi Protein bar.
Already popular in the US, it contains 211 calories and 15g of protein.
Michelle Frost, general manager at Mars Chocolate Drinks & Treats, says: "Snickers continues to be our number-one performing brand within our specialist sports products and knowing how popular the Peanut Brownie range is in other markets, we're excited to be bringing the variant to the UK market for the first time.
"Snickers Hi Protein White Chocolate bar becomes our second best-selling protein bar after launch, and has continued to perform at this level, with sales second only to our original Snickers Hi Protein bar."
Also launching this month is a reformulated Milky Way Hi Protein bar with 15g of protein.
Moving away from the sweet stuff, and one very popular product in forecourts that has been providing consumers with protein for years is KP Nuts. Matt Collins, trading director at KP Snacks, says: "Nuts have been recognised for their natural credentials and the important part they have within a healthy, sustainable diet and are therefore excluded from the upcoming HFSS legislation. They are naturally packed with protein and fibre, appealing on both taste and health cues." He adds that as nuts are excluded from HFSS legislation, they represent a huge opportunity for growth. "To drive sales of nuts, retailers should create more space for tasty nuts and bring them into the centre of aisles to drive penetration and purchasing frequency.
"Nuts are able to be placed throughout the store so free-standing units and counter displays should also be used. In and around checkouts in particular are great spaces to drive incremental impulse purchases."
According to Kantar, when it comes to snacking, having a nutritional benefit such as high in protein/vitamins accounts for 13.3% of snacking choices, while being more natural/unprocessed accounts for a further 7.2% of consumption decisions.
Kantar also found that chilled snacks benefit from a health halo: a fresh or chilled snack being almost twice as likely to be considered 'healthy' than an ambient one.
Cheese delivers when it comes to snacking: on both indulgence and on perceived health, thanks to its protein and micro-nutrient profile.
Neil Stewart, head of marketing for Cathedral City at Saputo Dairy UK, explains: "A naturally nutrient rich foodstuff that is high in protein, a good source of calcium and carries a whole host of other vitamins and minerals essential to bodily function, cheese has the ability to deliver an indulgent, sensory eating experience while also fulfilling a widely recognised role as part of a balanced diet. Via our Cathedral City Minis range and grab and go Snackbars, we are supporting consumers with a range of portion controlled snack-sized products."
The performance of Cathedral City Minis is particularly notable, delivering 105% sales growth and 81% volume growth in convenience (excl major multiples) over the last 52 weeks (IRI).
Finally, one new protein product to look out for is Vegerami, a meat-free version of Peperami. It is made from a blend of pea and wheat protein, with added peppery herbs and spices. Its launch builds on the success of Vegerami Chick'nless Bites, which went into stores last summer.
Brand owner Jack Links says it believes the new Vegerami range will significantly contribute to category growth, as the meat-free and meat snacking categories grow side by side.
According to Nielsen data, Peperami finished 2021 as a £100m brand after seeing 87% value growth over the past five years. During 2021, sales of chilled meat snacks grew by 24% as more health-conscious consumers looked for nutritious food with functional benefits, particularly products that were high in protein.
Diversification has definitely helped Peperami retain its market-leading position. As well as the meat-free snacks, it recently launched Chorizo five-packs.
The Chorizo is made with 100% pork, packed with protein, and is unpasteurised to maintain its fuller flavour plus the good news for retailers is that it has a shelf life of over six months.
FAST FACT: 31% - Monster sales are up 31% year-to-date (Nielsen data)
Monster growth
There's no disputing the power of the energy drinks market. Nielsen data values it at £1.47bn and it continues grow.
"Giving consumers a much-needed energy boost is what the 'Get Me Through The Day' driver in our Taste Tomorrow soft drinks category vision is about – and it represents a big growth opportunity for retailers," says Amy Burgess, senior trade communications manager at Coca-Cola Europacific Partners (CCEP)
"Monster is the number one deliverer of value growth in the whole of the GB soft drinks market, up a massive 31.3% year-to-date and adding more than £100m-worth of value in the past year alone, which is 12% more than the nearest branded competitor (all Nielsen data), and which is helping retailers to tap into this growing category.
"In addition to a strong core range, Monster Ultra is now the number-one zero- sugar energy drinks range in GB, while our Monster Juiced range continues to grow at a rate of 59.9%, highlighting shopper demand for great- tasting products and zero-sugar options.
"We continue to excite energy drinkers with new flavours and innovations, which have been pivotal to the success of the Monster brand. Earlier this year we launched Monster Ultra Watermelon, backed by an exciting new snow-sport themed promotion for the Monster Ultra range."
Burgess adds that shoppers are increasingly looking for food and drink with functional qualities that can help them achieve maximum results during sports or workouts. "Our Reign Total Body Fuel range is worth £7.56m and growing by 23.3% in retail (Nielsen data). As well as containing 200mg of naturally-sourced caffeine, the recipe is enriched with branched-chain amino acids (BCAAs) to help prevent protein muscle breakdown, L-Arginine to improve blood flow and stimulate the release of growth hormones, and Vitamins B3, B6 and B12, which can contribute to reducing fatigue."
Orange Dreamsicle and Peach Fizz varieties recently joined the range.
FAST FACT: 69% - Sales of protein bars have grown by 69% in the past year (IRI data)
Mango bursts onto the market as Carabao's latest flavour
Lower-sugar, low-calorie energy drink brand, Carabao, is now available in a new Mango Burst flavour, which joins the existing Green Apple, Mixed Berry and Orange Blast. Containing just 49 calories per can and with a lower sugar formula, the new flavour sits within the government's HFSS guidelines.
John Luck, chief marketing officer, Carabao UK&I, says: "With research revealing that mango appeals to both frequent and infrequent energy drinkers, we knew we wanted to create a mango drink to rival the existing market offering with a tropical twist unique to Carabao.
"With the further reduction of sugar and removal of aspartame as well as using natural flavours and ingredients, Carabao Mango Burst is the first step on a wider journey for the brand to offer customers even healthier energy drinks."
Meanwhile, the brand has just announced a partnership with MND Scotland.
Carabao, which is the Official Energy Drink partner of Heart of Midlothian FC, will be donating a percentage of product sales made via the Hearts website to the charity up until the end of 2022. The announcement comes with the brand currently mid-way through the second year of its partnership with the club, who wear the MND Scotland logo on the front of their match shirts. The charity is close to the hearts of all Hearts supporters and the wider community after former captain Marius Zaliukas tragically lost his fight with Motor Neurone Disease in 2020.
Carabao launched into the UK in 2016 and is known for key football sponsorships with Hibernian FC, Hearts FC and the Carabao Cup.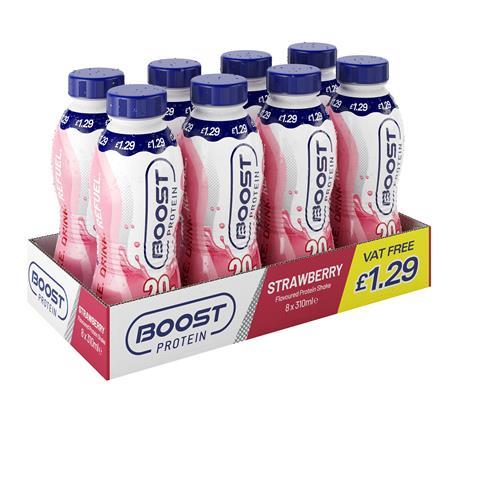 Boost Protein shakes are growing at a rapid rate
Adrian Hipkiss, marketing and international business director at Boost Drinks, says the protein sector continues to be an important part of the functional drinks repertoire for consumers. "The fact that the sector is currently growing at 43% year-on-year can largely be attributed to our Boost Strawberry Protein shake (310ml), which is the largest-growing SKU in units. Currently sitting as the top- three value and volume brand within symbols and indies, Boost Protein is growing at a rapid rate of 115% year-on-year in units, making it the fastest-growing brand and firmly positioned within the protein sector (all IRI data)."
Hipkiss says the fast-growing protein sector has huge potential for retailers to cash in. "Protein shake drinkers consume 9.1 units per month, a rate that is higher than energy, sports or iced coffee. This insight illustrates that there is huge potential for retailers to secure repeat protein drink customers. With this in mind, retailers should make the most of the growing demand for protein drinks through avenues such as store merchandising, ensuring products are sited within the right areas by brand, size and need with clear messaging where applicable.
"This will provide reliability within the protein drink category, so that consumers can always find the product readily available in chiller, with minimal effort."
Hipkiss says that in addition, 98% of protein consumers also buy into sports and energy drinks.
To maximise profitability, he recommends that protein drinks be displayed alongside sports and energy drinks to ensure easy accessibility for consumers. "This is especially relevant for brands which operate across various beverage categories such as Boost Drinks, a top-three brand in all of its beverage categories: energy stimulation, isotonic sports, RTD iced coffee and protein shakes."
Boost Protein shakes contain 20g of protein and come in Strawberry and Chocolate flavours.
FAST FACT: 24% - The growth rate of chilled meat snacks during 2021 (Nielsen data)