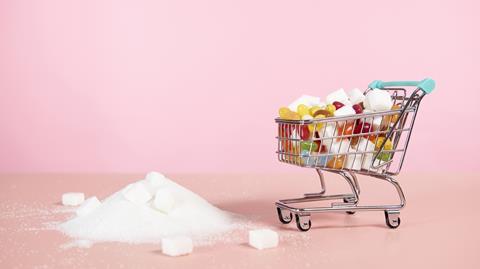 Strange things are afoot in my local Sainsbury's. You head down an aisle expecting to see cans of beans or tea and coffee and instead you're met with a first metre or so of Jaffa Cakes or chocolate.
You know what they've done but it's all a bit weird. They've moved items around so that they are HFSS regs compliant. So, no tasty treats near the front of the shop; they've all be shoved way back inside.
Luckily for many of you, you don't have to abide by these new restrictions because of your store size or number of employees but some of you do. It's interesting therefore to look at how trials of removing HFSS products from the front of a store have affected sales.
Southern Co-op used five of its stores to trial the new regs, starting in March. Evaluation was eight weeks pre and post the changes. The company said it expected the biggest impacts from the changes would have come from the removal of the HFSS products in impulse locations, ie dumpbins near tills and in the queuing areas. However, their analysis demonstrated there was not a material impact in the overall margin rate for the stores from the removal of these products from these locations.
Conversely retail data app Reapp collected data from big brands and found that biscuits and chilled products saw a 20% decline in sales year-on-year because of changes to where they were located. But HFSS-compliant healthier brands saw 10% growth.
Of course, lots of brands have made changes to their ranges to make them HFSS compliant. For example, the whole Popchips range has been reformulated so the snacks are non-HFSS - let's hope they taste just as good. Other brands have added compliant products to their ranges. Grenade is an example with its new Protein Flapjack range, however you wouldn't know it was non-HFSS from the product descriptions. The Oat'ally Blueberry flapjack is blueberry flavoured wholegrain oats and nut butters, dipped in white chocolate and topped with biscuit crumb. And Caramel Overload has milk chocolate and is topped with chocolate drops. However, they contain 11g of protein and less than 1.4g of sugar. How is that possible?
The $64m question, of course, is will the HFSS regs have the desired effect? Despite all the headaches for manufacturers and retailers, will the new regs have any impact on consumers' buying and eating habits?
In Sainsbury's (again - sorry!) since the sugar tax on soft drinks, red Coke ie full sugar Coke and blue (full-sugar) Pepsi)have been put on the highest shelves in the aisle. But I know where to find them and I still buy them week-in, week-out as Mr West won't drink anything with artificial sweeteners.
So, will consumers forego their bar of chocolate or doughnut because they have to walk a bit further to get it? I don't think so, but what do I know?