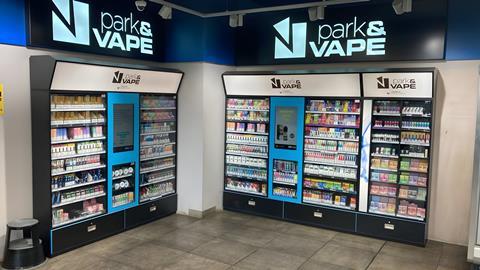 We all know that vaping is big business but some forecourts are doing better with the category than others. A prime example is Top 50 Indie Park Garage Group which has invested in its shop-within-a-shop concept, Park & Vape.
Ian Cawley, head of operations at Park Garage Group, takes up the story: "We originally launched Park & Vape in our store in Thieves Lane in Shrewsbury. This was a larger footprint store and we needed to add additional features. We already had a food-to-go option in Subway and due to the increase in popularity of vapes, we decided this would be a good trial site for Park & Vape."
The vape concept was added to the store in February 2022 and Ian says sales exceeded expectations a lot earlier than expected. "The category within Thieves Lane grew by over 50% within eight weeks and so we decided to expand the offer to other sites."
Since that initial trial, Park Garage Group also trialled a 1m Park & Vape stand in a smaller site and again sales went through the roof.
So today, within larger footprint stores, you will find a shop-in-shop model; in smaller footprint stores Park & Vape takes the form of a 1m or 2m stand depending on the size of the shop. They currently have 60 Park & Vape stands within the estate and any development work done on sites factors these into shop refits so they are always adding additional stands.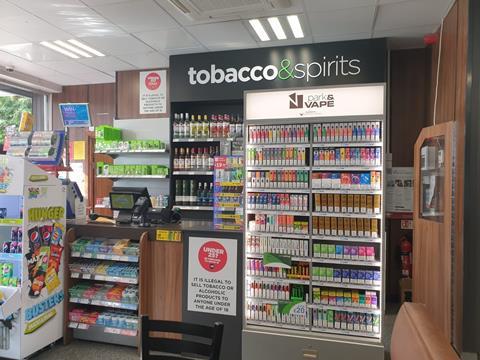 Vape products currently account for just over 10% of total shop sales at PGG and therefore the category definitely earns its space within stores.
"When we introduce a stand or Park & Vape shop-in-a-shop to a store we usually see sales increase within the category by 50%. This is down to having good offers and the latest ranges but it is also down to allowing customers to view the products and decide what flavours or products they want," says Ian.
"We found that one of the largest issues within vaping is that flavour and variation of products is so vast it's hard for a customer to communicate what they want across a counter. Allowing them access to the products has removed this hassle for our customers."
Ian says staff are trained and receive regular updates about the products and the category but admits that it's such a fast-moving category with new products and flavours all the time, that it's sometimes hard to keep up.
As for what sells best, he explains: "We have seen the progression through a lot of brands since we first set up our stands. Initially it was all Elf Bar which moved into Lost Mary and these brands are still successful but we have seen a major shift within the category and they have lost a large share to new products such as Crystal, Gold Bar and IVG."

Fast-moving trends
As Ian at Park Garage Group says, the vaping category is evolving all the time so it's important to keep up.
Therefore, Tom Gully, head of consumer marketing UK and Ireland at Imperial Tobacco, advises retailers to review their range regularly and prioritise stocking the brands that cater to fast-moving trends to remain current and to maximise sales.
"We're currently seeing significant growth in the disposables category," he says. "Now worth 83% of all vape sales, the disposables market saw a remarkable increase from £141m in 2021 to £973m in 2022 (IT figures).
"Recent data also shows that both closed pod systems and basic open systems remain popular choices for vapers, accounting for 17% of the UK vaping market (IT). To tap into this trend, we'd recommend that retailers stock a range of leading pod systems, including our blu 2.0 device."
Imperial recently added three new flavours to its disposable blu bar range. The addition of Tropical Mix, Apple Ice and Mint Ice take the total flavour range up to 13 variants.
Says Gully: "Collectively, these flavour characteristics, including apple, pineapple, mint and mango, accounted for 10.75% of all vaping sales over the last six months, with their share contribution almost doubling versus the same period a year ago. This really demonstrates the significant consumer demand for these particular flavour profiles."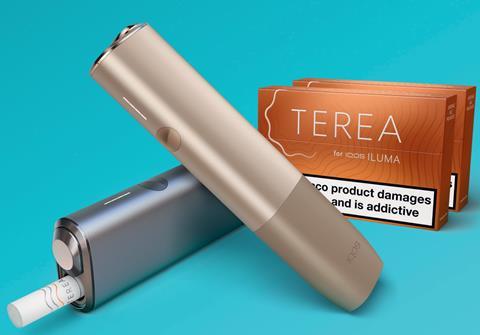 Heated alternatives
Philip Morris Limited (PML) recently launched IQOS Iluma, designed specifically for adult smokers who would otherwise continue to smoke cigarettes.
Building on the success of the original IQOS device, the Iluma series comprises three devices – Iluma Prime, Iluma and Iluma One. All three are built with the same technology at their core but have been designed to address varied preferences and different price points. IQOS Iluma One – described as the hero product for the UK – is the most affordable option in the series, priced at £39 rrp, whereas the Iluma Prime is the most enhanced device at £109 rrp.
The new Iluma line up comes with user benefits such as the Smartcore Induction System which uses a magnetic heating system, resulting in no blade and no cleaning.
The devices also boast an improved design which PML says means they are closer to a cigarette experience compared to other alternatives but without the burning and emit on average 95% lower levels of harmful chemicals compared to cigarettes.
The 'elevated user experience' includes an improved draw.
PML says retailers currently stocking the IQOS Original device and HEETS can expect to see the same boost to their bottom line with the new device, as IQOS Iluma and the associated Terea sticks offer the equivalent profit margin.
Designed specifically for use with the Iluma devices, Terea use a stainless-steel element inside the stick to heat tobacco from within without burning it. They come in nine different tobacco blends.
Christian Woolfenden, managing director for UK and Ireland for PML, says: "Globally, the heat-not-burn category is on an upward trajectory and PMI's IQOS products have already helped millions worldwide to switch away from cigarettes. Heated tobacco is also seeing huge momentum in the UK, growing a staggering +400% in the last three years (Nielsen).
"We are now taking our innovation to the next level with IQOS Iluma – revolutionary technology that gives adult smokers more options and represents an important leap forward in our efforts to accelerate the end of smoking. We are confident that with its attractive device range and price points, IQOS Iluma is equally appealing for adult smokers as well as existing adult nicotine users and will step-change the growth of heated tobacco in the UK."
Legal update
The wider media has been full of stories about the problems of children being attracted to vaping products and the ease with which they can buy them. This, together with wider issues around smoking, is the subject of a government consultation.
The consultation asks questions on proposed action to protect future generations from the harms of smoking, by creating the first smokefree generation. It also asks about proposals to crack down on youth vaping and ensure the law is enforced.
With regards to the 'smokefree generation' the consultation puts forward the proposal to make it an offence to sell tobacco products to anyone born on or after January 1, 2009. It also asks whether proxy sales should be banned.
With regards to vaping, the consultation discusses restricting vape flavours to make them less attractive to children, regulating the packaging and presentation to a standardised format to make it less attractive to children, regulating pos displays to keep vapes out of sight and out of reach of youngsters, restricting the supply and sale of disposable vapes, the possibility of applying a new duty on vapes to make them less affordable. The consultation also talks about a stronger approach to enforcement with the possibility of local authorities being able to issue fixed penalty notices to those serving underage people in England and Wales (in Scotland they can already do this). There is also a suggestion of on-the-spot fines for underage sales.
The consultation can be found here: https://consultations.dhsc.gov.uk/en/65201ed1f3410a69990d3081
Closing date is 11.59pm on Wednesday, December 6.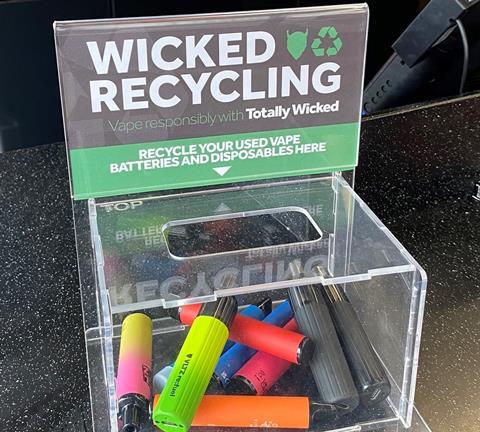 Recycling vapes
One of the issues mentioned in the government consultation is the problem of disposing of single-use vapes. According to recent research by the BBC, five million disposable vapes are thrown away every week, with only 17% of vapers recycling their vapes properly.
Earlier this year, Veolia launched a nationwide vape collection scheme. The company says forecourt retailers are already using its safe recycling system.
Collections are scheduled according to demand and in order to store and transport these materials safely, Veolia provides retailers with individual containers of vermiculite, a mineral that will minimise fire risks from the lithium-ion batteries contained within the vapes. The company says it is the only vape recycling system in the UK to use a fire suppressant.
Meanwhile, vape supplier Phoenix 2 Retail last month announced that it has been working on a 360-degree recycling solution for retailers.
The company began by rolling out over 200 recycling units last month, which will be followed by a further 5,000 units by the end of the year, subject to retailer agreements. Phoenix 2 Retail aims to reach 15,000 retailers by the following year, ensuring at least one recycling unit per store.
The company believes that by making recycling units accessible and convenient, more vapers will be willing to recycle their vapes properly.