Spar store manager, Linda Carrington, received the British Empire Medal for exceptional service to her local community during Covid-19. At first, Linda thought emails about her award were spam and deleted them all!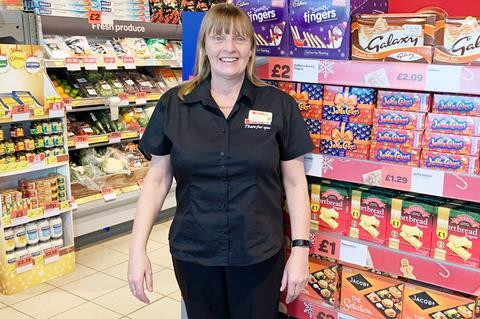 Name:
Linda Carrington
Company:
Blakemore Retail, Spar Laceby Lodge
Job title:
Store manager
01 Career history: I began working for Blakemore Retail in April 1981. This was on a government Youth Training Scheme.
02 When did you find out about your British Empire Medal? I had received e-mails from the Cabinet Office but had deleted them as I thought they were adverts. I then got a phone call asking if anyone had contacted me regarding this. I explained my mistake and the information was sent again straight away. I then called the company operations director, who informed me that I had been nominated for the award.
03 How did you feel about your efforts being recognised? I am so very proud. I have worked hard over the past 40 years and this is a real honour. I could not have done this without the support of Blakemore Retail.
04 What's the best thing about your job? Working closely with the community, having great relationships with customers and staff, and facing new challenges on a daily basis.
05 Most important qualities in the workplace? I think having a good work ethic, always being approachable and making sure store morale is at an optimum level are great qualities to have in the workplace.
06 How do you stay motivated? I find having a good working relationship within my team, always being positive and using my experience to guide others really helps in the role.
07 Dream job – if you weren't doing this: I really couldn't see myself
doing anything else.
08 Perfect day: I still love delivery days, working together as a team and seeing an end result pleases me.
09 Best holiday ever: I enjoy camping and when my children were younger they loved it too. We went to France for two weeks and made some fantastic memories.
10 Favourite read: I love reading fact-based crime books.
11 Three words to describe yourself: Friendly, hardworking and passionate.
12 Most likely to say: "Joseph"….. he's my year-old grandson
13 Least likely to say: "Do it yourself!"
14 Biggest fear:
Spiders.
15 Best bit of advice you've ever received: Tomorrow is another day.
16 Possessions you couldn't live without: A kettle.
17 Pet hate:
Lateness.
18 Favourite film: It's A Wonderful Life.
19 Favourite food:
Chinese.
20 What do you wish you were good at: That would have to be DIY.