Shell's Sue Annis may be test driving an Audi Etron for work, but secretly she favours an F-Type Jag or a VW Camper van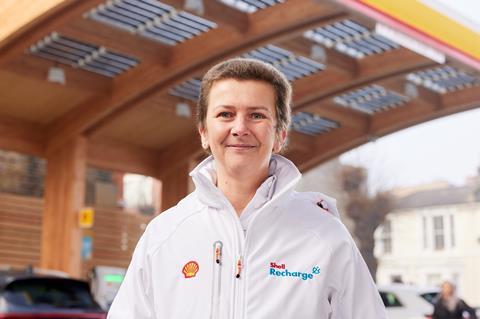 Sue Annis
Job title: National Sales Manager UK Mobility
Company: Shell UK Oil Products Ltd
01 Career history: I started my career in retail in a sales leadership role with Vodafone and worked there for 15 years. I moved on to Argos before joining Shell in 2012. I joined as we were expanding our UK retail footprint and after four years moved to the Global team, heading up Retailer Operational Excellence, Brand and Digital Enablement before returning to the UK as the national sales manager, heading up the UK Sales and Operations team supporting our 1,100 service stations.
02 Dream job – if you weren't doing this: Had I not fallen in love with working in retail, I would have definitely wanted to work in the medical profession.
03 What do you drive?
I have recently been test driving an Audi Etron, to help me gain the full EV customer experience and perspective of driving and recharging across the UK network.
04 What would you like to drive? I love cars and my favourite car to own was the F-Type Jaguar. My other favourite was my VW 1969 Camper Van, both were fun cars to drive.
05 Perfect day? With my family in the sun!
06 Favourite team? My son's American football team: the Birmingham Lions.
07 Favourite read? I love to unwind with an easy read and have even been known to enjoy trashy magazines.
08 Favourite film? To be honest, I'm not a big watcher of films; I much prefer documentaries.
09 Best holiday? An extended stay in Cairns with my husband, diving and exploring the area.
10 Possessions you couldn't do without: A pen or my laptop. I'm a big note taker and so the pen and my laptop are my best friends.
11 Least likely to say: "It's not possible."
12 Most Likely to say: "Health and happiness are what matters most."
13 Greatest achievement: Raising my children to be respectful
and loving.
14 Greatest fear: Heights.
15 Tips for business success: You get out what you put in.
16 Best thing about your job: Every day
is different.
17 Pet hate: That would be dishonesty.
18 Three words to describe yourself: Tenacious, open, caring.
19 Anything else we should know? I believe in giving back and in addition to raising money for many worthy causes, I am a Trustee for a charity called One Westminster.
20 What do you wish you were really good at? I'd love to be able to sing in tune.