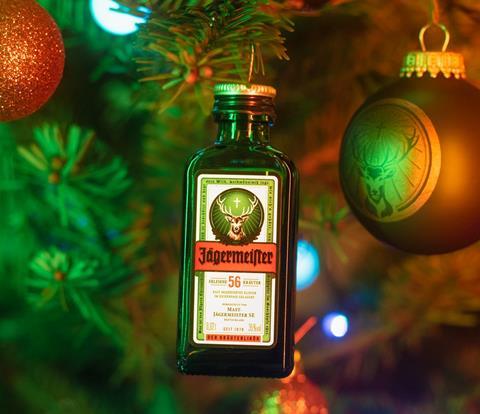 In the run-up to this Christmas – just like last year – there will be surveys that say people are being forced to tighten their belts due to the cost-of-living crisis. Of course that is true but on the other hand, because Christmas is such a big event, there will still be consumers who will push the boat out and spend more than they usually do to treat themselves, their families and their friends. But what they choose to buy may change.
According to Nielsen figures the UK beer market saw an uplift in sales between December 2022 and February 2023 thanks to the festive period and sports fixtures such as the World Cup.
Alexander Wilson, category and commercial strategy director at Heineken, says: "Over the same period, data shows that more households were buying into beer, with an increase in shoppers switching from wine and spirits to beer. We feel this was linked to cost-of-living pressures for consumers, as beer's more accessible price points became important for shoppers versus wine and spirits, and this is something we're expecting to see again this year.
"This Christmas, we believe shoppers will look for brands they know and love and one of our heartland brands that this applies to is Fosters, which is number two in the classic lager category. This year the brand is benefiting from a £3.5m investment campaign, which includes TV and digital advertising, strategic partnerships and an on-pack promotion."
The good news for forecourts is that research Heineken conducted last year showed that convenience will drive three-quarters of beer drinkers and over two-thirds of cider drinkers into convenience stores over the festive season.
Premium growth
Wilson says premium brands are growing despite the cost-of-living crisis. "While shoppers are attempting to make savings across large expenditures, such as household bills or eating out, smaller purchases like alcohol are one area where consumers are happy to spend a little more. This includes premium beer brand Birra Moretti, a must-stock for shoppers looking to trade up this Christmas, which has grown an incredible 42% since 2016, becoming the leading premium brand in both the on and off-trade (Nielsen).
"We expect premiumisation to continue to grow this Christmas. Premium lager has grown +10.6% in the last quarter, with massive growth in penetration as consumers want better quality products (Nielsen). This trend has been consistent over the past two to three years and the key brand that is driving this growth is Birra Moretti, which has become the UK's number one continental premium lager beer brand."
With shoppers looking for value for money this Christmas many will choose quality over quantity. "One key trend occurring since the cost-of-living crisis is the growth of smaller packs. We are seeing smaller multipacks – such as small and mid-packs growing their share of spend and expect this trend to continue over the coming months as many look to continue shopping but with a more restricted budget," says Wilson.
Bring out the Baileys
Many people could not contemplate Christmas without a bottle of Baileys in the house, indeed one in four households bought the brand last Christmas (Kantar).
Lauren Priestley, head of category development off trade at Diageo, explains that much of the drink's popularity is down to its versatility as it can be enjoyed in numerous ways – over ice, mixed into cocktails, drizzled over ice cream or used in desserts.
"To make the most of this opportunity, retailers can explore the range of flavour variants that Baileys has to offer – providing something new and exciting. In terms of merchandising, we recommend that from now to December, Baileys is kept on the top shelf for additional visibility during this key seasonal period."
Meanwhile, according to the MMR Spirit Gifting Tracker, whisky is the number one alcoholic gift between October and December and accounted for 30% of 'spirits bought as a gift' last year.
Says Priestley: "Not only does whisky lend itself to the winter months, but it also makes a great gift. There is a burgeoning diversity within the whisky category, making it even easier to appeal to a broader range of adult consumers, from connoisseur to novice, so we suggest stocking a good variety of whiskies. For example, stocking a few Johnnie Walker options, such as Black Label and Red Label will ensure that retailers tap into different taste preferences and budgets. Johnnie Walker is the third most gifted whisky brand in GB, making it a must-stock (MMR). To capitalise on this, we suggest cross-merchandising whiskies with high-quality confectionery, snacks or mixers, to provide customers with tips on gift packages they could pull together for Christmas."
She stresses that stocking premium spirits from reputable and trusted brands is essential in the run up to the festive season as customers seek products that lend themselves to gifting or celebrating.
"We recommend maintaining a few super-premium vodkas which last year accounted for 51% of super-premium spirits sales in impulse between October and December (Nielsen) and is key when encouraging increased shopper spend and gifting purchases."
She suggests Cîroc and its portfolio of flavours which stand out on-shelf and make great gifts for friends and family.
"Gin is another category not to be overlooked. In fact, over 11 million consumers enjoy gin in the UK (Kantar). Stocking a range of premium gins with different flavour variations will enable retailers to tap into the festive season and gifting moments. For example, Tanqueray London Dry and its variations within the portfolio including Tanqueray Flor de Sevilla (41.3% ABV) and Tanqueray Blackcurrant Royale (41.3% ABV) are great options for those looking for premium gifts this Christmas."
Priestley says tequila is another option retailers can consider ahead of the festive season as it's often used as a base for cocktails: "Having a few high-quality tequila options in stock, such as the Casamigos portfolio, can encourage shoppers to trade up and buy their loved ones a premium gift."
She suggests that retailers encourage these purchases by educating shoppers on how to enjoy the drink. "For example, by displaying recipe cards on-shelf or cross-merchandising tequila with other cocktail ingredients. Promoting a tequila range via socials will also be key to driving visibility – sharing seasonal cocktail recipes using tequila is one effective way to encourage people to choose tequila this festive season."
Another popular choice for celebrations is Jägermeister, which delivered a "robust" performance during the last Christmas season, particularly in the convenience channel. Jonathan Dennys, head of brand and trade marketing, says: "This strong performance indicates that Jägermeister resonated well during the festive period as it caters to the preferences of consumers seeking quality and diverse options for their holiday celebrations."
He continues: "Logically, it makes sense for forecourt retailers to stock fractional sizes of key brands, such as smaller bottles or single-serve options to cater to consumers on the go.
"Many Christmas alcohol purchases made at forecourt locations are likely to be impromptu, as customers may be en route to a party or gathering and are seeking more portable sizes without the concern of storage or excess."
Dennys says one of the company's standout offerings is the 2cl Jägermeister miniature, which has consistently performed exceptionally well during the festive season.
"These miniatures are a hit because consumers are looking for a fun and convenient way to recreate their best on-trade nights at their various gatherings over the holiday period."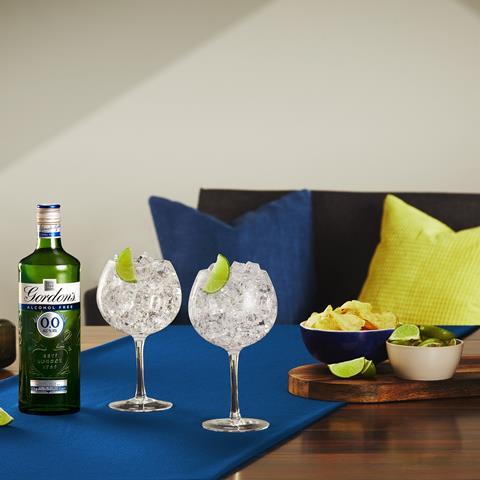 No & Low trend continues
Heineken research from last year showed that 41% of drinkers would be looking for lower alcohol or alcohol-free options to drink at Christmas (55% of Gen-Z), and the company expects this trend to continue for this year.
Heineken 0.0 continues to lead the UK's No & Low category, with a 19.2% share of non-alcoholic beer, and growing by 6.7% year-on-year (Nielsen).
"We will continue to invest in our No & Low alcohol portfolio to make it even easier for consumers to reach for such options, depending on their preference and the occasion. Whenever a consumer encounters one of our beers or ciders, we want to make sure there is an alcohol-free option proudly sitting alongside," says Wilson.
Priestley at Diageo agrees: "Inclusivity in a drinks range is vital, and stocking a selection of high-quality alcohol-free options means retailers are able to successfully cater to all occasions, all year round. Gordon's, for example, has successfully tapped into demand by introducing Gordon's 0.0% Alcohol Free Spirit, shortly followed by Gordon's Premium Pink 0.0% Alcohol Free Spirit. Both variants deliver the flavours and quality of Gordon's but without any of the alcohol and the Gordon's 0.0 SKUs continue to deliver for the brand, with Gordon's holding the majority share within the alcohol-free spirits segment (Nielsen). For those with slightly larger budgets, retailers can capitalise on this by stocking premium alcohol-free spirits, such as Tanqueray 0.0 Alcohol Free Spirit."

Don't forget the energy drinks
Energy drinks is a key category at Christmas, accounting for 17% of all soft drink sales over the festive period and gaining share each year, according to Nielsen data.
According to Red Bull data, the brand targets key winter occasions such as socialising (42% of cans consumed) and working (32% of cans consumed).
It therefore advises ensuring availability of the four-pack for entertaining and socialising, as well as chilled availability of single cans – in particular larger formats such as 355ml and 473ml – for when shoppers are looking for that boost of energy to get them through the season.
Last year penetration of functional energy multipacks grew by +10% in December versus the average month (Kantar), as shoppers traded up into higher volume packs, making multipacks a core way to capture more shoppers at Christmas.
A Red Bull spokesperson comments: "To win over the winter months, make sure your range caters to larger group occasions; 24% of sports and energy occasions over Christmas featured five or more people. Do this by being well stocked in multipacks to maximise on volume sold over the festive period."
Red Bull says Christmas is also a key time for shoppers to experiment with flavours. Last year just under one-third of Red Bull shoppers bought a Red Bull Edition flavoured drink over Christmas, which was more than during the rest of the year. The range saw strong growth and delivered £2.3m over Christmas last year (+92% vs YoY – Nielsen). This year that looks likely to continue as Red Bull's latest Edition – its first ever Winter Edition in the UK – is the festive flavour of Spiced Pear which features a dash of cinnamon.