Confusion as car washes in England are being shut down during second lockdown
.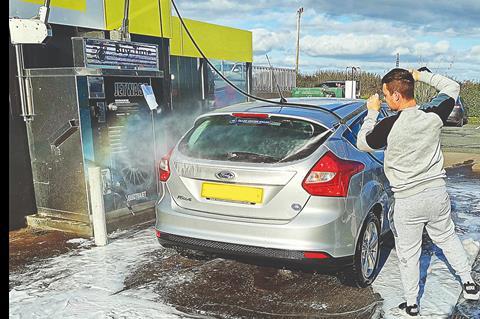 These are strange days indeed for all businesses with different rules and regulations, many of which are open to interpretation. Car washes are a case in point. While in Wales, Scotland and Northern Ireland, car washes have been allowed to stay open, it's different in England. While they were allowed to open during the first lockdown in March, this time around they appeared on the government's list of businesses that had to close in England. As soon as that list was published, the PRA wrote to Alok Sharma, the Secretary of State for Business, Energy and Industrial Strategy (BEIS), arguing that car washes were an essential maintenance service, particularly at this time of year.
After further lobbying, the BEIS advised the PRA that in England car washes that were part of a petrol station could stay open. Good news, it seemed, until some PRA members reported that local Trading Standards and Environmental Health officers were visiting their sites and advising them to close their automatic car washes and jet washes. The PRA sought further legal advice and was told that the various council officers were right and car washes are required to close under the current wording of the government's regulations. The PRA has since written a template letter for any member wanting to challenge their local council, which is available on their website.
evenue streams
Meanwhile, Ben Hogan, sales director at Washtec, says that one thing that has remained constant during recent times is that people are still cleaning their cars: "At a time when revenue streams are all too fragile, an automatic car wash has certainly proven to be invaluable to many fuel retailers during such challenging times.
"Spurred on after the first national lockdown this year, the fact that automatic car washes were allowed to remain open meant that while many petrol retailers were seeing a significant dent in their fuel volumes, they also saw a rather sudden and significant increase in shop sales and car wash sales alike. Very quickly, popping to the local petrol station to pick up some groceries and wash the car at the same time appeared to be quite an exciting proposition."
Hogan says that as a result of this growth in car wash sales it made sense for forecourts to not only review their current offering but to also to enhance it as a means to protect a valuable source of revenue: "By the middle of the year, car wash operators were seeking enhancements and upgrades to their wash operations, looking for ways to stand out, to offer the end user an overall more exciting experience and to help increase their average wash prices by upselling to that 'exciting foam experience'.
"Bright lights and heavy coverings of foam have proven to be the way forward and taking time to reinvest in car wash bays, new cladding, new bright and attractive LED lighting is also high on the agenda once again."
Meanwhile, Leighton Ricketts, sales director at NuShine, says many forecourts have had to rethink how their car washes operate and, in particular, how customers pay for washes.
"The thought process was always to get the customer to purchase a ticket from the shop before entering a code at the wash bay. This was in the hope that they make an additional purchase in the shop. Now, with customers avoiding entering public spaces when possible, we have added credit card acceptors at the entrance of some of our washes so that the customer can simply tap and wash. We are also now implementing wash club apps so the customer pays a fixed monthly fee, pulls up to the wash and swipes an app for unlimited monthly washing after their licence plate is scanned to check they are an active member. This technology coupled with our touchless washes has seen our customers sites thrive all through this pandemic. Although the revenue has dropped, it is still managing to be a very profitable venture."
Improved offer
With its continually growing number of sites, Top 50 Indie, Ascona Group was keen to standardise as well as improve the valeting offer across its network. Colin Russell, head of the vehicle cleaning solutions division at Ascona, says: "After carefully reviewing the existing market and equipment available it was decided that we needed something that offered our customers a whole new and improved experience, raising expectations higher than previously achievable. We believed that there was a need to have something different that would generate more interest and return on investment: "A careful and lengthy analysis of the market resulted in our co-operation with Electrajet as they had demonstrated a willingness to listen to our thoughts and develop equipment to meet our growing customer demands. Electrajet is new to the retail sector and had a fresh approach but with the security of a proven performance from their commercial jet-wash manufacturing operation.
"Crossways Service Station became our pilot site to test the new machine, which has resulted in the decision to roll it out across our network."
The new machine has proved to be a big success. Payment is contactless and Ascona has seen an immediate increase in daily revenue from £5 to over £60.
"Another plus point is the fact that we can now monitor it all remotely and in 'live time' with little or no concerns about loss or vandalism."
Colin says the valeting offer is important for driving regular repeat business that flows across the pump, shop and wash and, with the new equipment installed, the company is seeing more
repeat of visits.
According to Istobal, surprising customers with new jet-wash features and technological developments is key to getting their loyalty. The company says it continuously develops its range of accessories to add fun to the car wash experience. One of its latest launches is a Snow Foam option on forecourt jet washes.
Istobal is currently running a special offer on its state-of-the-art M'Start machine with an 'unbeatable price' as well as a 12-month warranty, a first-year technical service contract, 12 months' supply of chemical products up to the value of £1,000 and promotional material up to the value of £500. The company says this is a package that will allow operators to relax during their first year of ownership and have a modern car wash suitable for a wider range of vehicles, as this car wash is now also available with a width of 2.6m to be able to wash larger vehicles as vans, minivans and SUVs.