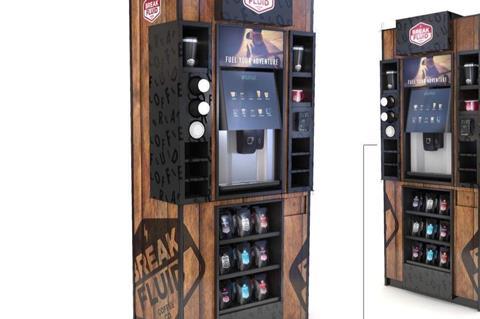 A new range of coffee machines for retailers has been launched by caffeine-based adventure sports brand Break Fluid in partnership with Liquidline.
The machines will be available to purchase by independent shop owners and larger brands and shop owners can either choose to gift customers a drink to encourage browsing or charge for the hot beverage.
Chris Mcardle, brand manager at Break Fluid, said: "The launch of the Break Fluid branded coffee machines marks a huge development as the brand becomes more established with consumers.
"The presence of a hot beverage dispenser will contribute to consumer dwell time and according to retail studies, there is a significant positive relationship between time spent in-store and sales. Customers who take the time to enjoy their retail experience are more likely to have a delayed point of sale and therefore, potentially increase their spending.
"Break Fluid coffee machines will not only dispense a great tasting drink, but can be a source of revenue and profit if retailers choose to charge over 40p for a cup."
Using Break Fluid's best-selling coffee bean, Fuel Injector, the machines will dispense a dark, high-caffeine roast, made and produced ready to drink. Utilising the latest technology, the machines are a safe solution in shared environments by being completely touchless - beverages are selected from a tablet or smartphone via an app.
John Collins, commercial director at Liquidline ,commented: "We're delighted to be partnering with Break Fluid. This partnership marks Liquidline's first step into the adventure sport retail industry.
"Competition for footfall has increased and the customer experience continues to evolve while adhering to health and safety measures. Our machines use the latest technology to not only bring a safe coffee experience to consumers, but also offer commercial benefits to shop owners".
Liquidline and Break Fluid are collaborating on further coffee dispensing machines. The brands are currently working on a cold brew coffee machine which will be an industry first.