Falcon Retail has installed Bioshield Health's antimicrobial protection film kits at high contact touch points across all of its three service station stores, to help minimise the risk of Covid-19.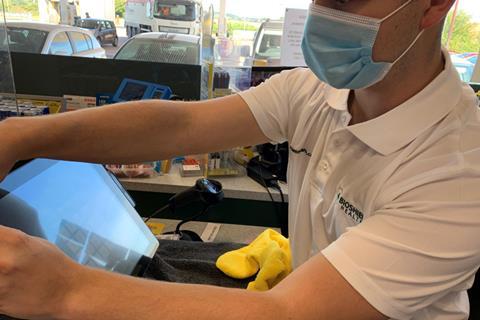 Bioshield's film is claimed to kill up to 99.9% of bacteria, and the company produces kits that are bespoke, and can be manufactured to fit any shape
For Falcon Retail's service station stores – at Frome and Wembdon in Somerset, and its most recent store at North Bradley in Wiltshire which opened in February – it produced kits for their Costa coffee machines, staff tills, counter tops and door panels.
Falcon Retail's operations director Tom Orford explained: ''For us, and indeed for any business, the most important people are your customers and your staff.
"We want to make sure that we are doing everything we can to make our sites as clean and hygienic as possible in both the customer facing and the staff only areas.
"Bioshield is a fantastic product that can inhibit the growth and kill up to 99.9% of bacteria.
"Bioshield Health's assistance to identify and then manufacture kits for all of the key high contact touch points on our sites gives our staff and customers the reassurance that we are doing all we can to achieve the very highest level of hygiene in our stores.''