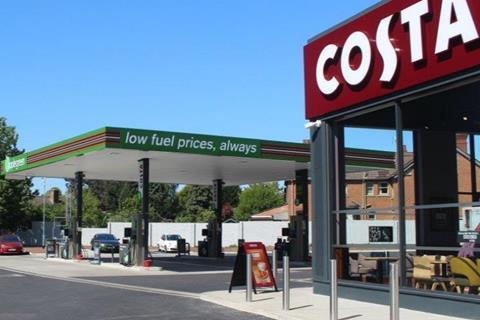 Forecourt sign and graphics specialist, Brand Consortia, has become the first national signage contractor to achieve double-offset carbon neutral plus status.
Brand Consortia designs and manufactures signs, graphics and branding across all commercial environments throughout the UK. Fifty staff work on projects for major retailers, high-street stores, fuel forecourts, and transport hubs.
The family-run business claims it was the first to champion sustainable signage, launching its own Sustainable Signage Scheme. Today the business is based in Shaw, Oldham and has achieved not only accredited net zero status but is carbon neutral in its audited emissions.
The company believes the new accreditation will bring huge dividends to retail, grocery and forecourt businesses working with the leading national signage business.
Brand Consortia director, Matt Mason, said: "We are delighted with the response from Carbon Footprint Ltd and it is brilliant to achieve this accreditation earlier than we expected. The initiative will bring immediate dividends to the brands working with us and to those in the grocery and forecourt sectors looking to control and improve their own sustainability."
Brand Consortia works with a number of leading brands within the UK forecourt, convenience and grocery sectors. Customers include Applegreen service stations who operate Welcome Break motorway services, Costa, Spar, AF Blakemore & Son Ltd and Subway.
Mason said: "We are off­setting double the carbon emissions that we generate in order to increase the number of social and environmental schemes we are helping to fund. Our chosen offset method is to support a tree planting scheme in England, Scotland and Wales because it ties in well with our partners.
"Other businesses will say they are assessing, measuring and reducing emissions and that is great, but we are proud to say we have done something unique within our industry and we have achieved net zero operations today. We now offset more carbon emissions than we generate, making us not just carbon neutral, but carbon negative."
Brand Consortia first introduced its Sustainable Sign Scheme in 2008, where the business would offset the CO2 released during the manufacture and installation of signage projects.
Mason added that no other company in the signage industry offered such a scheme at the time. "We calculate the energy and mileage used in producing, delivering and installing signage and use a bespoke formula for establishing the amount of CO2 released. We then purchase the appropriate amount of carbon offset credits and produce a certificate of sign and graphics carbon neutrality for the sites to display," he said.
Longer term goals were then set and today Brand Consortia has its processes certified to a carbon neutral plus standard.
"We are working hard to push our commitments in tangible directions, such as using electric vehicles, swapping strong solvents for uv-cured alternatives, and embracing the use of remanufactured materials and sharing these passions with our clients," Mason added.
More recently Brand Consortia looked to target growth with an expansion into indoor graphics and POS branding by investing £500,000 in upgrading significantly to an advanced flatbed printing solution in-house. This allows them focus on delivering high quality products with minimal environmental impact.
"Our market is in signage and large-format graphics such as external window displays but we are receiving increasing volumes of internal large graphics and POS branding work. Investing in more advanced print technology means we can efficiently support the expansion of our business," concluded Mason.