FreeWire Technologies, whose investors include BP, has announced the deployment of Boost Charger at an ampm fuel and convenience store in Lodi, California.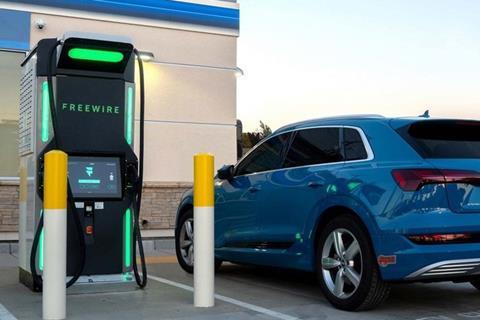 Boost Charger is the first battery-integrated ultrafast electric vehicle (EV) charger deployed in the US. By using the integrated battery as a buffer, Boost Charger is able to boost the existing power at the site, thus delivering the highest power output in the region while enabling widespread deployment at any commercial location.
Boost Charger easily connects with ampm's existing infrastructure, allowing the system to be installed in hours without requiring expensive new grid power supply. Boost Charger can be powered from a single-phase connection and installed in places that previously could not support higher power demand.
"Fueling stations and convenience stores have had very few options to provide EV charging until now," said Arcady Sosinov, CEO of FreeWire Technologies. "With Boost Charger, EV drivers can get 100 miles of range in 10 minutes, and businesses can drive more revenue from new visitors to their store – all at a dramatically lower cost."
"We are always seeking ways to provide new, innovative services for our customers," said Kevin Kapala, COO, ampm. "Offering ultrafast electric vehicle charging at our ampm stores supports our brand promise of delivering ultimate convenience."
ampm boasts over 1,000 stores in five states and is owned by BP America, a subsidiary of BP. BP Ventures first invested in FreeWire Technologies in 2018.