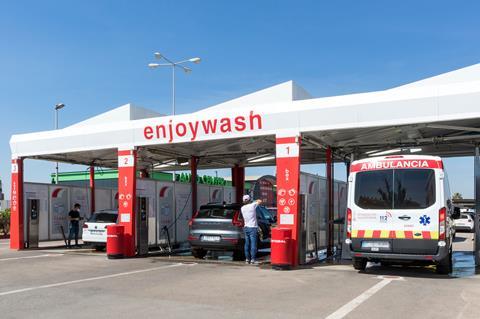 Spanish car-wash specialist Istobal has developed new technologies for the interior and exterior cleaning of cars in order to respond to the new cleaning needs arising from COVID-19.
For interior sanitisation, Isotbal has developed a manual sprayer that sprays disinfectant product onto all vehicle surfaces and can also be used for cleaning the exterior of a vehicle.
It claims to completely sanitise the vehicle in eight minutes, including the ventilation system and using the vehicle's air recirculation. It also eliminates unpleasant odours by oxidation.
For external cleaning, the company has designed an easy-to-install autonomous arch composed of several sprayers that spray biocidal product as vehicles drive through, reaching all areas, including the underside.
Thanks to a photocell detection system, the arch is automatically activated when the vehicle drives through and quickly and effectively disinfects vehicles up to 2.8 metres high. The company claims the arch has an average disinfection capacity of about 1,000 vehicles per day and is particularly suitable for first-response vehicles that may be in constant contact with the virus, such as ambulances or law enforcement emergency vehicles.
Istobal says it will soon launch a version of this arch for the external disinfection of commercial vehicles (such as buses, fire engines, refrigerated trailers, waste management and animal transport) and railways (trams, underground trains and trains). For the disinfection of truck interiors, the company already has Istobal Hw'Intrawash, which it claims is Europe's first standardised automatic equipment for the professional washing and disinfection of refrigerated trailers, truck bodies, trailers and shipping containers.
In addition, Istobal has incorporated specific programmes in the rollovers of its M'NEX and M'START range and in its high-pressure jet wash facilities for external vehicle sanitisation, as a final complement to a wash programme. The company says these programmes can be easily adapted to these wash equipment ranges, using upgrade kits to incorporate this new service.
For greater safety in wash areas, the Spanish group recommends a specific brush shampoo product with sanitiser that prevents contamination by transfer between car wash machines and vehicles.
Istobal says all its disinfectant chemicals are registered as virucidal and biocidal for contact surface hygiene and have been tested for effectiveness in terms of concentration and application times as well as compatibility with various surfaces inside and outside the vehicle.