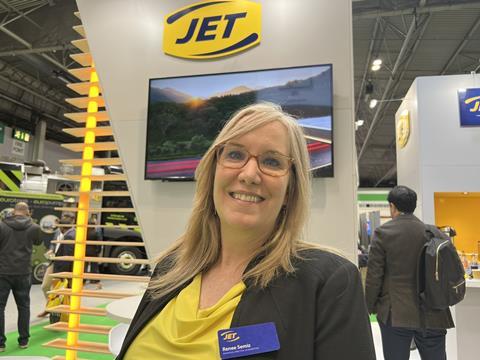 Jet brand owner Phillips 66 revealed at The Forecourt Show that it has embarked on an electric vehicle charging trial, to fully understand what's involved, so that it can integrate the service into its dealer offer by the end of the year.
Oliver Mueller, retail business manager, Phillips 66 said: "We're currently embarking on testing at our three of our company-owned sites. The aim is to learn about how much it costs, what the challenges are, and to learn about the customers and the value chain.
"We're going to work at integrating this into our dealer offer. From a time-frame perspective we're planning to make this available at the end of this year."
The first one has been installed at the company's new state-of-the-art flagship site, Refinery Service Station, close to the Humber Refinery in South Killingholme, North Lincolnshire.
"There were a lot of challenges," confirmed Renee Semiz, managing director, UK Marketing, Phillips 66. "This was the very first one and we learned a lot about what it takes for installation and what some of the hurdles are. Now that we've overcome that, we know what we're doing, and we've already got the next two sites under way. By the end of the year we'll have a range of dealer options that we're hoping to roll that out at our conference.
"The learnings start off from a technical perspective - what it takes to procure these chargers, get them in the ground. The amount of time and preparation it takes when you interact with something like power grids. We had a different perception of time and response rates - we learned that it took longer than we expected it to take. We learned a lot about the government requirements we have to fulfil, and how easy or not easy they were.
"We know the next one will be significantly faster. However, we also know there is a minimum time that you just have to accept, because there are a lot of things that are outside your realms of influence.
"The other thing we had to put a lot of thought into was our payment technology. As this is the first one we're doing, we researched what the options were. We decided to go with the simple option - tap and go with your credit card.
"There's a lot of gimmicky apps out there, you have to become a member and so on, so we decided to make the process as seamless as possible for the consumer - just tap and go.
"So now we have that technology and the systems integrated into our systems, all those things took a tremendous amount of effort to figure out. Now we can package that up."
The other aspect for consideration was the speed of charger – and they've gone with the "fastest, high-speed charger that you can buy".
"It's a 150kW, but we've purchased a configuration that can easily beef it up to 350kw at a later date, without having to change the equipment," said Mueller.
"We went for 150kW because when you look at the fleet in the UK, it covers the most. If the fleet changes, we can upgrade the chargers we currently have."
The thinking behind this is that if the chargers are high speed, the consumer will see the forecourt exactly as it has always been. They come in and fill up whether it's fuel or power; go in the store get a coffee and a snack, come back to their car, and leave. It's a similar experience as filling up with fuel – depending on charging capability - and may take about 15 minutes.
"Every site will have to evaluate requirements in order to install an EV charger and it's going to be different from site to site. That is one of the challenges of growing this," stressed Mueller.
"We're going through our company owned sites and evaluating if they are eligible for chargers. We're looking at if there is enough demand in the area; do we have room? How is the connection to the grid, and then of course does it make sense from a financial perspective.
"We think you need a certain amount of chargers to have a decent offer. Depending on the space and the grid you may need a huge sub-station or not and that may change the economics completely.
"In the process we have also learnt how to evaluate our dealer sites - does the charger make sense now? Or maybe in a few years' time, depending on availability, financial stretch, and demand?"
Another key aspects of the research into the EV charging market has been to try to find out what is important for the customer – and what really annoys them. The two things were, the customers didn't like the complicated method of payment – having to have several apps on your phone to be able to charge your car. Hence the card payment, 'tap and go' system.
The other important thing was the lack of reliability of chargers, which are often advertised as working but then are found to be broken.
"That's why we think we've chosen something that is very reliable – an Alpitronic charger – and also one that is going to get fixed very fast in case it's broken," stressed Semiz.
"I don't think when you operate these things you can afford for them to be down for a week. It must be like a pump - the faster it's repaired the better. Reliability is going to be part of the learning curve."
Mueller also spoke about whether a site is a push or a pull one for EV charging: "When you build a petrol forecourt you are very cautious that you put the site where the traffic is, so that your customers pass you by - the better the road, the better the location for a petrol forecourt. That kind of rationale does not yet exist in the charging world. So it's a bit like 'if you build it they will come' (hopefully!)."
Semiz explained that the business case is not well understood: "There's a lot of uncertainty around the cost of installation because of the electrical infrastructure. We think we can help our dealers understand that; help them understand the technology and think through their ideas around investment. Do they want a service provider to do the work and for them to own and operate it? Or do they want someone else to own and operate it and for them to take the commission?"
In order to understand the market, the three trial sites representing different dynamics. The first site to open, Refinery Service Station, is a big site with a good food offer. The other two trial sites are Beacon Garage in Yorkshire, an urban site, at the exit of the city; and Newton Park, in Newton Aycliffe, described as a transient site, very close to one of the biggest A roads that connects Scotland and the south.
That way the Jet team will find out what the utilisation rates are, what kind of customers are coming to the site - is it the locals, is it people passing by; and whether people are planning their journeys as regards availability of chargers.
"I think dealers are going to want this offer, if they're in an area where consumers have EV vehicles," said Semiz. "Everyone is concerned about fuel demand declining, and the impact on their business. They are wondering what they can do to expand their offering to retain the same level of revenue or profitability.
"I think hydrogen could really change the outlook for the forecourt. But until we get to that point, there will be a variety of offerings at the forecourt. At Refinery site there is retail forecourt and HGV forecourt. Then we're adding an EV charger, so we have a third offering. If you have a big enough site you can add on, or at some point you may see the demand of one part of your business shrinking."
Mueller agrees that the energy transition that is going on is causing uncertainty but it's important that dealers don't lose customers in future by not having EV charging facilities.
"Currently EV charging is an additional offer to a traditional forecourt," he said. "It brings additional business and may help to keep your business. Drivers have learnt behaviours of where to fill up their car, so when they have an EV it's a natural transition to charge at the same place. If a site doesn't have EV, customers may move on to another place that offers both.
"There might be a point in the future when 80% of the vehicles are electric, and EV charging becomes the main offering, and the main reason why customers come and visit your site. When this is going to happen, no one knows. There are people who say it's going to happen rather fast. There are people who say it will take a long time. I don't know. But having the flexibility of both offers - fuel and electricity - gives retailers the opportunity to balance that out."