Gilbarco Veeder-Root's Nick Power says people are starting to get excited about hydrogen.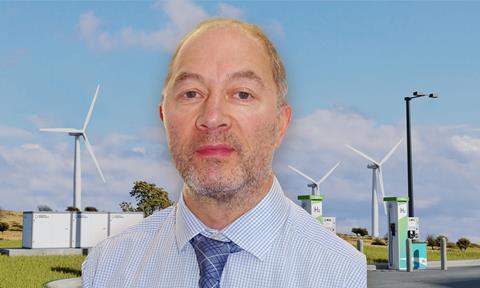 A new suite of equipment and software to handle hydrogen refuelling was launched by Gilbarco Veeder-Root earlier this year as the company revealed its aims to become a pioneer in enabling hydrogen-powered transportation.
It unveiled compression, dispensing and software solutions to support a network of renewable or low-carbon hydrogen refuelling stations and is now hoping to develop partnerships in the UK with interested parties including traditional forecourt retailers. The company has a long history and experience in fuel dispensing equipment and says the addition of hydrogen dispensers complements its ability to support itscustomers in the march to net zero, with a range that includes compressed gases and end-to-end vehicle charging infrastructure.
Nick Power, GVR's hydrogen business development manager, says more independent forecourt operators were showing interest and wanting to understand more about the technology and when might be the best time for them to get involved.
"Although we're a bit behind the curve in the UK , we have about 15 hydrogen stations which has been a really strong achievement. Public-funded partnerships with local councils such as in Aberdeen and Birmingham, have been the early adopters, because the EU Commission put a really big effort into hydrogen buses, due to the focus on air quality in cities. That's given the market a lot of confidence. We have a great platform, we just need to build the momentum.
"What we're now seeing is the HGV sector coming into focus. International truck manufacturers like Iveco, Scania, Volvo and Daimler have announced plans to introduce hydrogen HGVs in the next two to three years. Hyundai already has a hydrogen heavy truck; plus a company called Hyzon is retrofitting DAF vehicles onto hydrogen."
There are currently around 230 hydrogen refuelling stations around Europe – 100 of which are in Germany – and it is estimated there will be around 6,000 hydrogen stations across Europe by 2030.
"You could look across the UK and Europe and pretty much every oil and gas company and energy major now has a hydrogen business unit that is looking at hydrogen projects – companies like Shell, BP and Total," says Power.
In terms of the technology, Power says that compression and storage of hydrogen at high pressure are also regular features of industrial hydrogen gas that's been around for many decades. So all those things are very well understood – it's not about new technology, but the application of existing technology for new uses.
"One of the things that has been developed more recently is the dispensing side – so that is the newer technology, and that's where companies like Gilbarco fit it. We understand the world of dispensing and refuelling, and have the expertise in the hardware and the software to be able to apply that, be it natural gas or hydrogen," says Power. He explains that all hydrogen stations are made up of three main elements: compression, storage and dispensing. Hydrogen is delivered at one pressure, compressed to a higher pressure, stored on site, and is ready to use for refuelling.
"There are lots of things to think about when installing hydrogen dispensers – and we have a very consultative approach at Gilbarco. One of the challenges is to find space on a forecourt. But the equipment is most often containerised, so it's easy to install and find space for. There are safety distances, but there is lots of guidance. Hydrogen can be piped from mainframe to dispenser. It doesn't have to be next to the dispenser. Different ways to get hydrogen to the forecourt will materialise.
"I think hydrogen's best fit is on HGVs, and that's what the market is starting to gear up for now. People are getting excited about hydrogen!"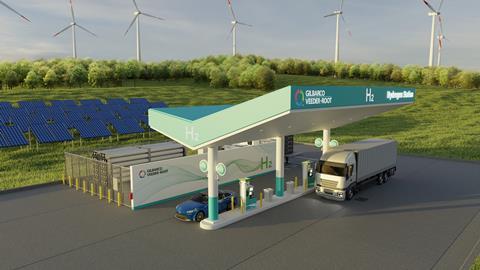 QUICK INFO
1865: Gilbarco Veeder-Root's history traces back more than 150 years
1910: Founders Gilbert & Barker designed and manufactured the company's first petrol pump
1935: Gilbarco registered as trademark
1979: The Multi-Product Dispenser (MPD) is introduced
1993: VaporVac vapour recovery system launched
2002: Gilbarco and Veeder-Root join forces as world leader in retail petroleum products and services
2016: The Gilbarco brand and companies are acquired by the Fortive Corporation
2020: The Gilbarco brand and companies are acquired by the Vontier Corporation