Food-to-go sales have taken a big hit this year but the experts predict they will bounce back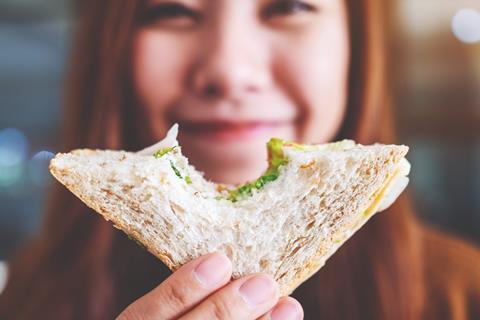 This year has been like no other in many ways, thanks to the Covid-19 pandemic, not least of all for food-to-go sales. Food to go has typically been one of the 'sexier' convenience categories thanks to all its different styles and formats. Plus, of course, it has led to excellent sales – and profit margins – for forecourt retailers. However, with lockdowns and more and more people working from home, consumer shopping habits have changed. People who would once have thought nothing of buying a coffee and snack on their way to work and then popped out again for something for their lunch are now consuming all that food and drink at home. And according to Lumina Intelligence's Food To Go After Lockdown: Downturn & Recovery Report, full-year sales are forecast to be £15.3bn in 2020, which is down by 28%. However, despite total value decline, food to go is projected to grow its share of the total eating-out market in 2020 to 28%, because dining in is largely restricted.
Sarah Coleman, insight and communications director at Lumina Intelligence, says: "The sudden shift from a highly transient, on-the-go society to one with restrictions placed on movement has had a catastrophic impact on the UK food-to-go market. With much of the UK workforce working from home or furloughed, footfall in city centres nose-dived. However, the sudden setback is not expected to last. The food-to-go market is forecast to grow by over 40% in 2021, returning the market value to around the 2019 level. The very nature of food to go, whereby it is not consumed on-premise, is relatively inexpensive and much of the customer base of the major players are already back at work, means the sector is well insulated for a swift recovery."
And Coleman adds that the total market is forecast to reach a value of £22.3bn in 2023. As for the value of food-to-go sales in forecourts, they are forecast to be worth £749m this year, giving the sector a 5% share of the UK food-to-go market in 2020.
Hannah Morter, marketing manager, customer insight and category management at Country Choice, says that while the food-to-go market has been significantly impacted due to coronavirus measures, when the country emerged from the first lockdown, sales did pick up. Country Choice's survey of its own customer base found an increased demand for hot food-to-go as workers returned to their jobs or home-workers looked for an alternative to home-made lunches.
To help retailers get up and running again, Country Choice offered them a series of "Lift Off" promotions on savouries and continental pastries. "Offering as much as a third off, these were designed to support retailers in getting their hot cabinets and in-store bakery displays fully stocked," explains Morter. "We know that consumers are even more concerned than usual about hygiene and fresh food preparation so we have also produced a Keeping It Clean guide which is available to all customers and offers advice on how they can minimise the risks presented by Covid-19."
She says Country Choice is recommending that retailers focus on maintaining good availability of core lines and best sellers throughout the day. "That would be sausage rolls, savoury bakes and turnovers. Additionally, we would recommend that retailers opt for our fully wrapped Savour It! range of paninis and wraps."
Morton advises that hot food units perform best when they are in clear view of the consumer, not hidden in the back of the store. "Sales performance will be highest when situated next to a coffee machine and other food-to-go products. Retailers should ensure hot cabinets are not placed in the immediate vicinity of doors to avoid the unit losing heat."
Of course, the food-to-go category encompasses more than just hot food, there are sandwiches and savoury snacks too and food-to-go not only covers lunchtime but also breakfast and snacking.
Spar says its own-label range of food-to-go products has grown in line with changing consumer habits and market trends. Its current food-to-go Spar brand range includes breakfast, lunchtime, drinks, savoury snacking and sweet snacking.
Spar UK brand manager, Dave Wright, says: "Snacking in the UK is seeing growth, with a quarter of food-to-go shoppers buying a snack on- the-go twice a week. With the typical convenience food-to-go consumer being younger, it is important to have a range that not only encourages repeat business with loyal customers but also offers products attractive to new customers."
Within its breakfast range, Spar has introduced two new own-label porridge products to capitalise on the rise of eating breakfast on the move. They are Plain Porridge and Apple & Cinnamon Porridge. In addition, two new sub rolls have been added to the symbol group's lunchtime offering. They are Ham & Cheese and Chicken & Stuffing. And the Spar brand's snacking range has been extended with the introduction of a Low Calorie Strawberry Jelly Pot, Mini Lemon Drizzle Cake and Chocolate Mousse.
"We are going to continue with our own-label new product development programme as breakfast on the move and the UK snacking market grows. With restrictions on movement still in place in many areas around the country, and our stores continuing with their role as hubs of the community, we want to make sure they are equipped with relevant tasty and exciting food-to-go products when consumers begin to spend more time outside their homes, return to work or look for convenience as they go," says Wright.
Another huge part of the food-to-go market is crisps and snacks, with Lumina Intelligence data showing that crisps and snacks are second only to soft drinks when it comes to what shoppers are purchasing on the go.
Matt Collins, trading director at KP Snacks, says the most important factors influencing shoppers to purchase crisps and snacks for the food-to-go occasion are: price at 85%, brand at 77% and pack size at 72% (Lumina). "Therefore, it's essential for retailers to stock the best-selling brands, such as McCoy's and Hula Hoops in a variety of sizes and price points. Singles and price-marked packs (PMPs) in particular will play a prime role in rebuilding the food-to-go category, with 83% of retailers saying that PMPs sell faster than non-PMPs. For manufacturers and retailers looking to win in the on-the-go category, it's key that they are offering the right core range in the right formats, boosted with the right promotions and in-store merchandising.
"We know that taste/flavour is a major influence when choosing a snack, with convenience a key consumer driver too, and our brands are perfectly placed to tap into this opportunity with their flavour credentials."
McCoy's is a massive seller in forecourts with Salt & Vinegar and Flame Grilled Steak the number one and number two best-selling meal deal choices. Collins says McCoy's Muchos have also been well received by consumers and are already worth £11.8m (Nielsen).
Meanwhile, Nielsen data reveals that Hula Hoops delivered the most growth of any bagged snacks brand in 2019. Worth £142m, Hula Hoops is growing in value by 4.1%. Nielsen stats shows that the Hula Hoops Big Hoops range has grown 25.4% year-on-year to reach £45.6m, with Big Hoops Grab Bags top sellers in meal deal ranges and the £1 PMP hugely important to forecourt stores. Hula Hoops BBQ Beef £1PMP is the top-selling PMP in the convenience channel and a 'must-stock' line.
Matt Smith, marketing director for Mr Porky, reminds forecourts not to forget pork snacks. "Over 80% of pork snacks are consumed with a drink, and consumers frequently talk about buying them 'at the offie', by which they mean their local convenience store or forecourt.
"In-home consumption has further growth potential as people look to 'take that pub taste home' and forecourts can maximise this by merchandising pork scratchings on clip strips with beer, wine and spirits (BWS) to attract these incremental, VAT-free sales."
The Mr Porky range has recently been the subject of a refresh with new formats including the aforementioned clip strips for easy merchandising with BWS.
Smith explains: "The new designs have improved stand-out, preserving the artisan appeal that consumers are looking for and the new
packs are already delivering increased rate of sale, promising a sales boost
for retailers."
The Mr Porky range includes: Mr Porky Original Scratchings; Mr Porky Hand Cooked Scratchings, which are cooked in smaller batches; and Mr Porky Crispy Strips, which is a relatively new innovation that is delivering strong sales by offering a lighter eat compared to traditional scratchings.
Hydration on the go
All that food-to-go needs something to wash it down and water is a good choice, particularly if it's got natural credentials.
Alina Balatchi, marketing manager for Aqua Carpatica, says this award-winning natural mineral water is a 'first of its kind' in the UK thanks to it being virtually nitrate-free and having one of the lowest sodium levels around. "Drawn from pure aquifers, nestled deep in the heart of the Carpathian mountains, Aqua Carpatica combines an exceptionally balanced mineral content of calcium and magnesium; a great choice for health-conscious consumers."
She says that choosing wisely and stocking the very best in the category has become even more important during these unprecedented times, as health comes at the forefront of shopping missions and the consumer trends reflect this increased focus on wellness and premiumisation.
The Aqua Carpatica range comprises still and sparkling variants, packed in glass, 100% rPET and PET (BPA free. "Our on-the-go range presents a great opportunity to increase sales and attract more consumers to the category," says Balatchi. "The 500ml comes in both still and sparkling, delivering both the wow factor in terms of bottle design and the quality through the exceptional water. The 750ml sportscap is also a great favourite for those seeking a bigger volume, plus there is an option for little ones too – the 250ml bottle with eight playful designs and the spill-proof sippy cap."
Meanwhile, energy brand Carabao continues to be one of the star performers within the multiple forecourt channel with 20% volume and 7% value growth in the four weeks to October 17 (Nielsen).
In March Carabao launched its Mixed Berry flavour, having noticed a significant lack of berry energy drinks on the market. Since then, Mixed Berry has become the fastest- selling flavour in the Carabao range and the number two energy launch in the total market for 2020 (Nielsen).
While Mixed Berry is the star performer at the moment, the entire Carabao range has benefited from the introduction of a £1 price point in many forecourts including Euro Garages, which has seen 104% sales growth since the new price point came into force and +333% growth in 2020 (year-to-date versus 2019, EG sales data).
Carabao recently partnered with Euro Garages on a national forecourt 'takeover' which saw the energy brand become 'unmissable' across its UK sites. This partnership included A3 and A4 posters, digital till screens, bollard wraps, petrol pump toppers and wobblers that all featured Carabao.
The high-visibility takeover was a huge success. Euro Garages marketing manager, central buying, Mumtaz Ismail, says: "Carabao energy drinks sell well in our stores – particularly the fruity flavours – and the new £1 price point delivers great value for customers and an excellent rate of sale. The brand team at Carabao are keen to support our forecourts and the recent forecourt takeover was testament to that, with the investment delivering strong sales growth. The addition of the Mixed Berry flavour has hit home well with shoppers and has proven itself to be a customer favourite."
Carabao also recently activated a '2 for £1.20' deal within a national forecourt retailer, as a cross-promotion with a leading confectionery manufacturer.
David Butcher, MD for Carabao UK&I, says: "The established cross-shop link between Carabao and confectionery can support forecourt retailers to drive trade up. The retailer saw a positive result for both participating parties, with Carabao unit sales up 51% during the promotional period.
"Pos is a useful way of drawing shoppers' attention to brands that meet the current consumer demands and in doing so, drive more sales," explains Butcher, who adds that Carabao pos material always highlights the brand's great value price point as well as its health credentials.
Another fast-growing sector of the soft drinks-on-the-go market is ready-to-drink (RTD) coffee. To cater for this growth, Boost Drinks recently launched two new, chilled RTD coffee SKUs – Silky Smooth Caffe Latte and 'Full Bodied Double Espresso with Milk, both available in £1 price-marked cans.
Simon Gray, founder and managing director of Boost Drinks, says: "Our RTD coffee offers consumers a great tasting product from a trusted brand at a lower price than the market leaders. As with all of Boost products, they also offer strong margins for retailers.
"The trend for cold brew coffee is one that we know is continuing to grow at a fast pace and it is really important that brands and retailers alike appreciate this. Consumers are on the look out for that caffeine hit in a quick-to-consume format for that on-the-go occasion. As a brand, Boost has always concentrated on creating products at a great price-point that offer the drinker something new and innovative compared to the rest of the market. Entering the cold brew market is another example of how Boost has developed a product in line with consumer trends to help retailers grow their sales and its performance to date has been hugely successful.
"We work really hard to ensure that we're working closely with retailers to make sure they have everything they need to make the most of our product offering. For example, we activated coffee with car park bollard advertising and in-store pos across a number of forecourts in the UK."
Lucozade Sport has teamed up with England footballing superstar Raheem Sterling as part of a marketing campaign for new Lucozade Sport Cherry Kick. The activity, which runs up to Christmas, will highlight the importance of keeping hydrated during exercise even during the colder months. Lucozade Sport Cherry Kick is available now in 500ml standard and price-marked bottles.
MFG chooses Stacked outlet for its Oakwood Gate site
The MFG site at Oakwood Gate, Birchwood, near Warrington, is the latest location to feature a new Stacked food outlet. The Londis-branded site, on Ordnance Avenue, is the first in the MFG estate to include the Stacked brand, which was created by Country Choice and is now available across six sites in the UK (Broadstairs, Skegness, Chesterfield and two in Plymouth).
The Stacked concept enables convenience and forecourt retailers to offer a complete range of made-to-order hot and cold food-to-go options, including traditional sandwiches (stacks), subs, wraps, salads, sausage rolls, pasties, bakes and even pizza, along with crisps, cookies, tea, coffee and soft drinks.
The concept is described as 'scaleable and adaptable'.
"MFG is one of the UK's most respected and progressive forecourt operators and so we are delighted that it has chosen to partner with us and introduce Stacked to its estate for the first time," says Stacked retail operations manager, Neil Lindsell.
"The Oakwood Gate site is the ideal location for Stacked and we are sure that it will prove to be the perfect solution for local consumers and passing motorists tempted by the delicious made-to-order food and drink on offer."|
Luke Harvey, MFG's food-on-the-go operations manager, says: "We at MFG are extremely excited about the opening of this new offer at our Oakwood Gate site. MFG prides itself on working with quality brand partners and
we feel the Stacked concept aligns with our vision to give our customers an exceptional experience. Suman and his on-site team welcome all visitors to try their fantastic new range of subs, salads and pizzas."
FAST FACT
Burgers… are the most popular lockdown delivery (Deliveroo)
FAST FACT
40% The amount the UK food-to-go market is expected to grow in 2021 (Lumina)
FAST FACT
7% The value growth Caraboa is experiencing in multiple forecourts (Nielsen)
Costa Express puts iconic chocolate drinks on the menu
Costa Coffee's limited-edition Christmas drinks range this year features iconic chocolates. The Quality Street Purple One Latte, After Eight Hot Chocolate and Terry's Chocolate Orange Hot Chocolate are all now available in coffee shops. Also returning to the menu are Irish Velvet and Black Forest Chocolate Frostinos. In addition, a Quality Street Purple One Hot Chocolate is available exclusively at Costa Express machines while Terry's Chocolate Orange Hot Chocolate is available at limited Costa Express machines, exclusively at Shell sites.
Meanwhile, Costa Express, is rolling out a mobile contactless ordering system across 9000-plus machines nationwide enabling a limited contact, more innovative way for customers to order their drinks.
The contactless ordering system, which is only activated when a customer is close
to a Costa Express machine, is available to use through the Costa Coffee Club app. And for every purchase made, customers can collect points which are redeemable on food and drink items across Costa Coffee stores nationwide.
Managing director at Costa Express, Scott Martin, says: "Customers from all over the country are blown away by the quality of our product and during these uncertain times, their daily coffee run has proven to be all that more important as they try to include a bit of normal in their routine. The technology is nothing short of a gold-standard level of innovation – a UK first for coffee machines – and we're proud to lead the charge as our customers enjoy a new and exciting way to order their favourite machine- crafted, barista-quality coffee.
New products
Mr Porky Original Scratchings from Tayto have won a 2020
Great Taste Award. The judges' comments included: "Indulgent- looking nuggets of pork scratching with an intense pork fat aroma. Wonderful soft bits mix with great pork crackling. The seasoning is excellent. Very moreish – just need a pint to go with it." Another said: "Loving these… The frying has produced an excellent crunch that, whilst not busting your dentures, produces a satisfying chew and then moves on to the soft fat."
Mountain Dew is running another on-pack promotion with Call of Duty, this time with its latest release: Black Ops Cold War. Consumers get double XP points with every purchase of Mountain Dew, which will enable faster in-game progression for gaming fanatics and an additional sales opportunity for retailers. The limited-edition Mountain Dew bottles are available now and 2XP codes can be redeemed until January 31, 2021.
Wall's Pastry is giving consumers the chance to win a £1,000 UK holiday voucher every week, and various other high-value prizes as part of its new on-pack promotion. The 'free gift with every pack' promotion runs until mid-December across Snack Sausage Rolls (available in packs of four,
10 and 12), Classic Pasty, Jumbo Sausage Roll, Vegan Jumbo Roll and a selection of its slices; Chicken and Mushroom, Chicken and Bacon, Chicken Tikka and Peppered Steak.
Urban Eat has brought back three limited-edition, festive favourites for the Christmas period; Turkey, Bacon & Cranberry and Vegan Feast sandwiches as well as a Pigs Under Blankets panini. All are available until December 23.
Rustlers' branded microwaves (1000W commercial grade) are available for just £250 plus VAT. Only requiring minimal space, the units are pre-programmed to cook the best-selling Rustlers SKUs, but can also cook other microwavable products. The microwaves are fully branded, providing excellent visibility in-store.