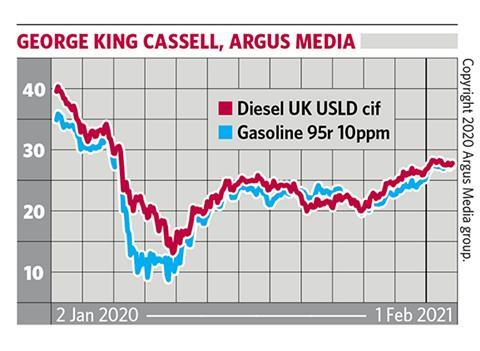 Low refinery runs and firm export demand have tightened European road fuel supply this winter, even as strict Covid-19 travel restrictions returned.
European refineries responded to the return of Covid restrictions by slashing runs on an unprecedented level. The volume of crude oil taken into EU-15 plus Norway refineries at the end of last year fell to its lowest since Argus began collecting the relevant data in January 1990, at 8.1mn b/d in December 2020. Output is around 20% below the same time last year, exceeding run cuts at the height of the pandemic last year.
Less stringent restrictions in the US have meant road fuel demand in the world's largest market has stayed within 10% of year-ago levels throughout the winter, and turned increasingly to Europe to make up shortfalls. Gasoline regularly heads to the US from Europe, but diesel has been shipped transatlantic this winter in a rare reversal of flows. New York and California are starting to ease restrictions already. Relatively low infection rates in the large export markets of west Africa and Asia have helped clear excess European volumes further.
European road fuel markets have subsequently been much more balanced in this second wave, with prices and refining margins out-performing last spring by some distance. Buoyed by stronger crude, gasoline and diesel prices are back to pre-Covid levels. But the recovery in road fuels goes beyond the output cuts introduced by the latest OPEC+ deal. Cracks are close to average for the time of year, and still positive.
Elevated stocks are another concern. Middle distillate inventories in the EU-15 plus Norway were at 30-year highs at the end of last year. This is problematic for European refiners, given that diesel has tended to be the region's most profitable product by some degree. Offshore storage has started to fill rapidly with summer-grade gasoline, which could flood the market from April when specifications are tightened.
As with many industries and technologies, Covid-19 has accelerated change and road fuels is no exception. The energy transition now looks closer than ever, and Europe's ageing refining industry is likely to see more pain in 2021 before things get better.