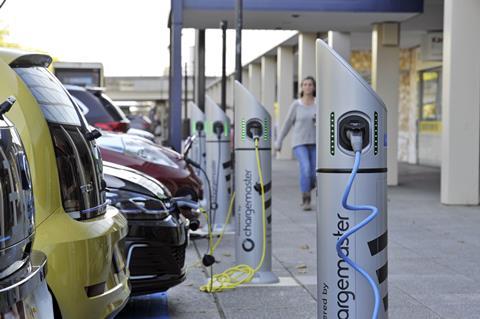 A 'quiet' electric vehicle revolution is taking place in the UK car market, according to New AutoMotive, a transport research group supporting the uptake of electric vehicles in the UK.
Following the release of the latest sales figures by the Society of Motor Manufacturers (SMMT) last week, the group says sales of petrol cars are declining fast and will sink below 50% market share by the end of 2021, as consumers 'snub' old polluting technologies.
It says petrol's share of the market has fallen from around two-thirds of all new cars in July 2020 to just 53% in July 2021 and refers to a 'worrying growth' in new hybrid vehicles, many of which it describes as no less polluting than petrol or diesel counterparts.
Ben Nelmes, Head of Policy and Research at New AutoMotive, said: "July's new car registrations data is further evidence of the quiet revolution that is taking place in the UK car market. In July 2019, 96% of new cars were either petrol or diesel. Now, just over half of new cars bought are petrol, and we expect diesel cars to become a niche part of the market by the end of the year.
"There is much to welcome in July's data. We see British brands emerging as EV leaders: two in every five Jaguars bought in July 2021 was fully electric.
"But we also see a continued and worrying growth in hybrid sales. Hybrids are not net-zero vehicles, and we are concerned that customers are paying over the odds for a technology that will soon be outdated. This is further evidence that the UK needs a strong California-style system that enables people to access the benefits of fully electric vehicles."
Its data reveals that more than 10,000 new fully electric cars were registered in July 2021 - the highest share of the market so far this year. Similarly, new diesel car registrations have never recovered from the collapse in sales during the pandemic.
The North East, Birmingham and London and Oxfordshire have emerged as hotspots for new EV registrations. The average market share of pure electric cars in those areas is now:
North East - 14.4%

London - 16%

Birmingham - 15.2%

Oxfordshire - 19.6%
New AutoMotive says VWs were by a wide margin the most numerous EVs registered in July. Just eight Teslas were registered in July - a product of the 'lumpiness' of the supply of Tesla vehicles. The low market shares of even the top 10 EV manufacturers demonstrates the growing variety of fully EV models, and manufacturers' efforts to enter and secure a share of this growing market segment.
Of the volume brands, the company says Renault continues to lead the transition to fully electrified sales with 28% of its new cars being fully electric in July 2021. The data also show a jump in sales of fully electric Jaguars - two in five new Jaguars were fully electric in July 2021.
The SMMT said component and staff shortages contributed to a 29.5% fall in sales of new cars in July.
The trade association said the decline was also artificially heightened by comparison with the same month last year, when registrations rose dramatically as showrooms enjoyed a full month's operation following the first 2020 lockdown.
However, this July's new car registrations total of 123,296 units was down 22.3% on the average recorded over the past decade, as an ongoing semiconductor shortage and the "pingdemic" impacted both supply and demand.
As a result, this was the weakest July for new car registrations since 1998, prior to the introduction of the two-plate system.