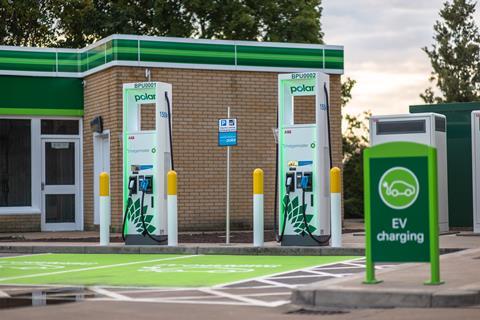 The Association of Convenience Stores is currently calling on Government to ensure that the rollout of EV charging points is conducted strategically.
The call comes as the ACS publishes its latest findings on the forecourt sector, which highlights the vital role that the UK's forecourt shops play in their local communities - providing over 88,000 secure local jobs, access to essential services and taking time out of the business to support local projects.
The ACS believes that for many petrol forecourts, EV charging will be central to their offer to customers, but for some it will not be the right approach in that community.
In its submission for next week's Budget it recommended the provision of funding for electric vehicle charging investment infrastructure on petrol forecourts and other on-the-go locations.
Other recommendations to government included: increasing and extending the Rapid Charging Fund beyond major road network and support grid connections to increase EV infrastructure takeup; industry-led implementation of EV charging infrastructure based on consumer demand, not arbitrary definitions of 'large fuel retailers'; exemptions from mandatory provision of EV charging in car parks where costs are prohibitive or sites are too small.
In its 2021 Forecourt Report the ACS states that more than three quarters (76%) of independent forecourts have engaged in some form of community activity over the last year, not just through raising money for charity, but also by sponsoring local teams, being part of litter picks and other activities. One in five forecourts (20%) was involved with providing stock for food banks.
The ACS found that forecourt retailers were also more active than ever on social media, reaching their customers through engagement on platforms like Facebook (38% of retailers), Twitter (22%), Instagram (20%) and TikTok (13%).
Forecourt retailers have also continued to invest in their businesses, with independent forecourt owners spending around £16,000 on average per store over the past year – understandably significantly less than the previous year, pre-Covid, when they were investing around £24,000 per store.
ACS chief executive, James Lowman, said: "UK forecourts have demonstrated how essential they are to their communities throughout the pandemic, and especially in the past few months during the fuel supply chain issues. As we look ahead, we must ensure that the essential services that forecourts provide are recognised, and that they are incentivised to invest in new technology, alternative power options for vehicles, and improving their shop offer for customers."
Other key findings from the report include:
More than one in three independent forecourt operators (37%) took no days off over the past year
Around one in four independent forecourts are open 24 hours
67% of forecourt shoppers drive to store versus 42% for standalone convenience shoppers
There are around 305,000 PHEVs and 298,190 fully electric vehicles registered in the UK