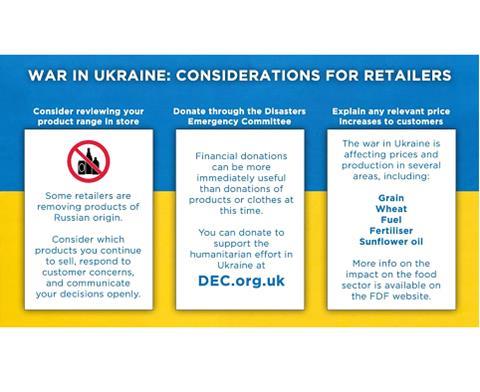 The Association of Convenience Store (ACS) has created a simple summary which helps retailers understand what they can do when responding to the war in Ukraine.
The graphic has been created based on conversations with members about actions currently being taken, both in terms of the impact on products and in finding legitimate sources to donate to.
An easy way to support the humanitarian appeal in Ukraine is to donate to the Disasters Emergency Committee. Donations can be made directly here. Retailers may want to consider displaying a poster that makes it simple for customers to donate.
If you are thinking of donating to a charity, you can ensure that they are on the register of charities by visiting https://register-of-charities.charitycommission.gov.uk/charity-search
For updates about the impact on food and drink, the Food and Drink Federation has resources available at https://www.fdf.org.uk/fdf/what-we-do/trade/ukraine-crisis/#signup.
For other concerns regarding the war's impact on the retail sector, visit the ACS advice page or contact: willem.vandenven@acs.org.uk