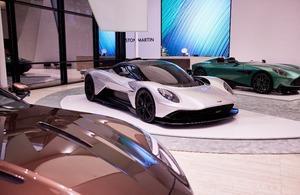 The Department for Business and Trade (DBT) has announced almost £9 million in government funding through the Advanced Propulsion Centre (APC) to develop Aston Martin's EV technology.
The project will help accelerate the development of a luxury battery EV platform to drive forward a route to net zero, including vehicle light weighting, a digital toolchain and electrification training.
The Government is also working with industry via the Automotive Transformation Fund to unlock investment in an internationally competitive EV supply chain - recent successes have included Tata's recent announcement of over £4 billion to build a new gigafactory in the UK. Offers made to date under the ATF are expected to leverage more than £6 billion in private investment.
This follows a previous £1 billion investment in Sunderland by Nissan and Envision AESC, £600 million investment by BMW to transform the Oxford MINI plant, £380 million investment in Halewood by Ford, £100 million in electric van production at Stellantis in Ellesmere Port, and £60 million in Hertfordshire by Johnson Matthey.
During a recent visit to Aston Martin HQ on Business Secretary Kemi Badenoch said: "Aston Martin is one of the UK's most well-renowned brands, most successful exporters…"
"The Government is backing our automotive sector, as can be seen with our recent APC award to Aston Martin and others, to ensure we secure high-quality jobs and investment across the UK and develop a resilient and prosperous car industry for the future."