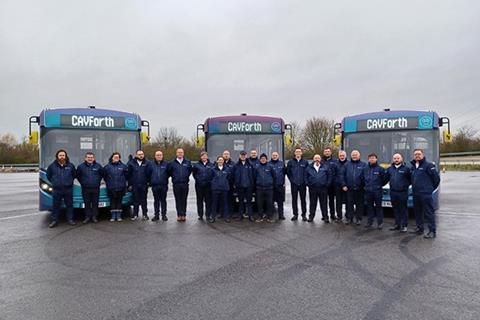 Stagecoach claims it will be the UK's first bus and coach operator to run an autonomous service using full-size buses after it was given approval for a route in Scotland.
It has received registration for a fleet of five autonomous vehicles which will be operate a service across the Forth Road Bridge from 15 May this year.
CAVForth is a joint project by Fusion Processing, Stagecoach, Alexander Dennis, Transport Scotland, Edinburgh Napier University and Bristol Robotics Lab, which is part funded by the Centre for Connected and Autonomous Vehicles, and is claimed to be the first registered bus service in the UK to use full-size autonomous buses.
A fleet of five Alexander Dennis Enviro200AV vehicles will cover a 14-mile route, in mixed traffic, at up to 50mph across the Forth Road Bridge from Ferrytoll Park & Ride, in Fife to Edinburgh Park Transport Interchange.
The service will operate a timetable with capacity for around 10,000 passenger journeys per week and will have two members of staff on board: a safety driver in the driver's seat to monitor the technology, and a captain in the saloon to take tickets and answer customers questions.
Scottish minister for transport Kevin Stewart said: "This is an exciting milestone for this innovative and ambitious project, and I look forward to seeing Project CAVForth take to the roads next month.
"Our trunk road network can provide a wide range of environments as a diverse testing ground, and the ground-breaking and globally significant Project CAVForth will really help Scotland establish its credentials on the world stage."
Carla Stockton-Jones, UK managing director for Stagecoach, said: "We are excited to introduce the UK's first autonomous bus fleet in East Scotland, which is home to our headquarters and where it all began over 40 years ago.
"We are proud to be at the forefront of transport innovation with this project that marks a significant milestone for public transport and we look forward to welcoming our customers on board in the coming months."
Jamie Wilson, head of concepts and advanced engineering for Alexander Dennis, said: "This is a thrilling milestone for this ambitious project which we are delighted to be delivering with our partners.
"Our Enviro200AV autonomous buses will demonstrate latest innovation in vehicle technology and we are delighted that passengers travelling between Fife and Edinburgh will be able to experience this for themselves when the service launches next month."