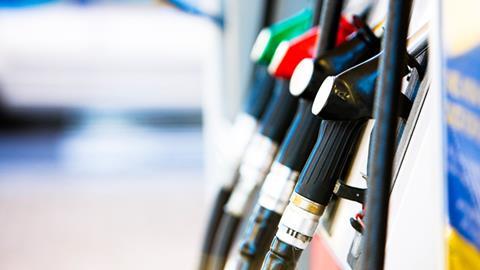 The average price of fuel on the UK's forecourts rose by 3p a litre in February, according to data from RAC Fuel Watch.
After four months of consecutive rises a litre of petrol now costs an average of 123.38p – up from 120.22p at the start of the month – while diesel is 126.47p (up from 123.35p), having risen for the last three months. On 1 November a litre of petrol was almost 9p less at 114.52p and diesel was 117.85ppl.
A sharp increase in the price of a barrel of oil has driven the rise in forecourt prices. During February oil increased by $10 a barrel to $65.83, a price not seen since mid-January 2020. Compared to 1 November 2020 a barrel now costs $29 more.
The average price of fuel at the big four supermarkets was 4ppl cheaper than the overall average at 119.32ppl for unleaded and 122.24ppl for diesel after an increase of 2.8ppl on both fuels during February. Asda had the lowest priced petrol and diesel in February at 118.41ppl and 121.51ppl, narrowly ahead of Sainsbury's which was 0.5ppl more expensive.
However, there were large regional variations, with prices in Northern Ireland around 5ppl cheaper than the UK average at 118.38ppl for petrol and 121.92ppl for diesel. The RAC understands this is as a result of fuel being imported from the Republic of Ireland where taxes are lower per litre, coupled with the benefit of sterling being considerably stronger against the Euro than it was two months ago.
RAC fuel spokesman Simon Williams said: "Oil shot up by $10, a barrel price last seen in January 2020, which led to a 3ppl hike on the cost of both petrol and diesel. The worry now is whether analysts talk of oil reaching $80 by the end of the year will prove accurate. If it does, we could see a litre of unleaded top 130p and diesel 134p.
"Much hinges on what oil producer group OPEC and its allies decide to do at their meeting on 4 March. As the build-up of crude from the pandemic is starting to diminish, they are expected to increase output, but the important question is by how much.
"There's a big concern that they won't release enough supply to soak up the increased global demand as life begins to return to something more like normal, which could cause the price to go up further."