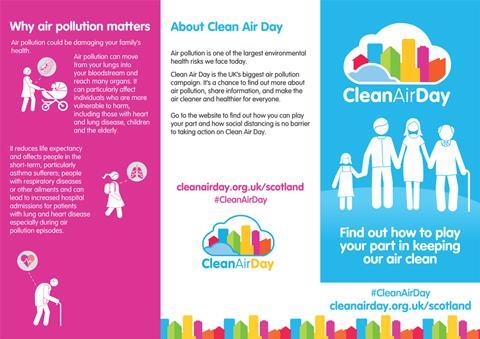 A new campaign will encourage Scottish motorists to give up driving as part of Clean Air Day.
Environmental Protection Scotland (EPS), which is coordinating Scotland's Clean Air Day on behalf of the Scottish Government, has launched a new radio and video campaign which highlights the significant improvements to air quality and public health when vehicle use declined during the lockdown period.
The campaign will be focused on vehicle users and will be broadcast on Bauer Media Group's Clyde, Forth, Tay, Borders, West Sound, North Sound and MFR in Inverness radio stations.
John Brynoth, from Environmental Protection Scotland (EPS), said: "Air pollution is bad for your health; bad for your child's health and bad for people with pre-existing health conditions, including older people.
"A lot of people will recall how much quieter, less polluted and safer the roads felt during the recent national lockdown as people took up cycling and walking as part of their daily piece of exercise.
"As winter looms it takes a lot more commitment cycle or walk, or leave the car behind on the school run – but it's definitely worth it in the long run as it brings health benefits and cuts down on congestion and air pollution.
"It would be great to see the upsurge in cycling and walking continue into the autumn months, especially given initiatives such as the Spaces For People cycling and walking scheme in Scotland."