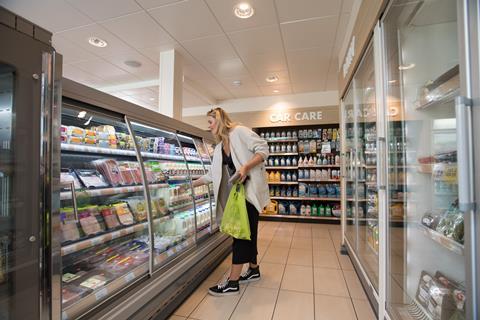 The average weekly value of convenience store shoppers increased by 6% during the four weeks until the end of June, according to the latest data from the Lumina Intelligence Convenience Tracking Programme.
The average weekly value of a convenience store shopper increased from £21.68 in the four weeks ending (4WE) 30.05.2021 to £22.98. The company says this increase was driven by an increase in average basket size (+0.1 to 2.8 items per trip) and visit frequency (+0.2 to 2.8 times per week).
Despite an increase in basket size, there was a decline in the proportion of shoppers on a planned top-up mission (-1ppt to 21.6%), with the food to go (+0.6ppt to 15.6%) and meal occasion (+1.8ppt to 14.8%) missions both recording increases versus the previous four week period.
Despite restrictions easing further, the research shows that convenience store delivery continues to grow its share of occasions - +0.9ppt to 7.1% of total convenience store occasions. Click & Collect also grows its share +0.2ppt to 2.2%. This is a notable sign that the shift towards delivery is permanent and not just a lockdown phenomenon that will fade away.
Commenting on the results, senior insight manager at Lumina Intelligence, Katherine Prowse, said: "Following a decrease in spend during the 4WE 30/05, it is a really positive picture for convenience, with spend, footfall and basket size all growing. Despite hospitality rules easing, rising coronavirus cases and the 'Pingdemic', will have resulted in many consumers being cautious and opting to cook at home more. Furthermore, many will have hosted gatherings and watched England's success at the Euros, which is reflected in the growth of the meal occasion mission."